User-generated content (UGC) gathered on Instagram is like gold for marketers and social media teams, especially at sports properties. Particularly those focused on attracting a larger audience and driving more fan engagement by giving their brand a human, authentic voice. Instagram's recently released 'Add Yours' sticker in Instagram Stories enables fans and followers to attach their own Stories posts into threads initiated by the team or club.
This feature enables other creators to respond to a story with their own story that relates to the original. Their avatars are seen on the original sticker. Each fan respondent's Story also shows a new sticker with the same prompt to their followers. The Add Yours sticker gives the original creator access to highly relevant UGC to bolster the importance of their story or feed. And it showcases (with a bit of fame) the creator of the added story.
We know that UGC drives engagement. With fans contributing content as a virtual part of their creative team, they get digital media that's perfect for their social and non-social promotional campaigns. Marketing teams use this authentic purpose-created content to feed their brand social channels and connect to more fans through their own community. That's why Greenfly developed +Engage, to enable the capture of relevant media and increase content 'co-creation.'
The traditional way of gathering UGC using hashtags is a very time-consuming exercise. But directly asking followers and superfans to create original photos and videos for specific events or celebrations is incredibly effective. It also drives social media engagement rates through the roof. Through Add Yours stickers, Instagram has made on-platform storytelling even better.
With passionate and talented fans creating and submitting UGC, managing these campaigns and reviewing large volumes of media can be a challenge. Fortunately, new tools like Instagram's "Add Yours" sticker and powerful solutions like Greenfly +Engage are here to help. Organizations in sports and other industries can execute UGC marketing that drives big results.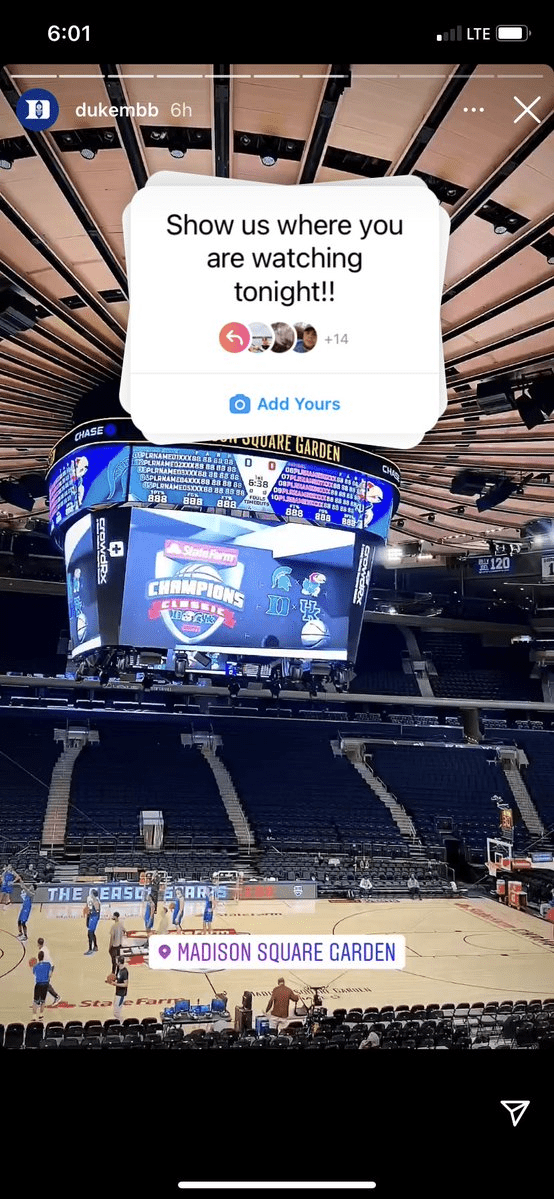 Instagram Add Yours Stickers Can Drive Tremendous Engagement in Sports
In sports, where fans are connected by their passion for a team and its athletes, the Instagram Add Yours sticker UGC marketing opportunity has taken off. Duke Men's Basketball recently tipped off their 2021-22 season in a much-anticipated Champions Classic matchup against Kentucky at Madison Square Garden. The basketball team has millions of fans worldwide who couldn't join them at The Garden. So, the Duke digital staff used the Add Yours sticker to help the community feel united in their love for the team and part of this event experience.
They posted two Add Yours stickers in the Stories for the Duke Men's Basketball team account. One called for fans to share how they were watching the big game. Another invited fans to post their game night outfits. As each fan posted their own Story in response (which also reposted the same sticker), the movement grew, and more fans participated. The Duke account itself could only see the first-degree respondents. But each subsequent response to the responses (is your head spinning yet) begat more participating fans. This activity grew the initial flake to collections of snowballs of Duke fandom.
Bundesliga football club Borussia Mönchengladbach similarly activated their worldwide fanbase with UGC. But the club took things a step further in resharing some of the responses sent their way. This motion is similar to re-Tweeting a fan's reply to give them credit but calling them out in Instagram Stories instead. This Instagram activity got even more meta when a fan reposted the club's repost to share her excitement about the team sharing her post. This attracted even more engagement from the creator's own audience. (This new IG feature can get comically meta.)
The club's digital team asked fans to share a gameday moment, and they clearly received several amazing responses. They picked out a few of their favorites to repost on their story to show fans they were listening. But consider the movement they started. It was a viral chain of passion for Gladbach, creators and the team delivering reciprocal shout-outs.
This UGC-based feature is still fresh, even for the rapidly evolving world of social, but Instagram Add Yours sticker use cases and ideas are beginning to bear fruit for brands.
Make Collecting UGC Easier With Greenfly +Engage
These early Add Yours sticker examples are not surprising; user-generated content campaigns with sports fans have been particularly successful. Where audiences were once accustomed to cheering in unison at arenas and stadiums, they can now routinely channel their collective roar on digital platforms. They can show off their passion and creativity and get a chance to be showcased by their favorite team simultaneously.
The IG Adds Yours sticker is one way to help fans connect with each other. But it's just an accelerant and firestarter for your overall use of UGC marketing. It's not the most effective method for the brand or team to collect and reshare the best of this type of digital content. However, it's a great start. Some teams and leagues try their best to curate and collect UGC through hashtags but then have to DM each user to get permission to use their content. Others are turning to more effective ways to collect rights-managed content from fans at scale using advanced but simple-to-use technology.
The Greenfly +Engage UGC crowdsourcing software can spearhead any organization or team's UGC strategy. Greenfly +Engage empowers teams and brands in any industry to quickly launch UGC collection campaigns. They can invite fans to submit their original photos and videos for any reason, cause, promotion, sponsor activation or contest. This authentic user-generated digital media is submitted into the organization's channel. It's automatically sorted for review and download. And every asset is immediately rights-cleared for use, modification and distribution on social media or other channels. Organizations can run multiple campaigns at once. Some are even using +Engage to collect fan data alongside content to communicate with their creators and activate sponsorships.
+Engage Brings Fans and Brands Closer Together
The Los Angeles Dodgers digital team ran a successful fan engagement campaign through +Engage. They collected and highlighted fans' emotional victory reactions within days of the club's October 2020 World Series win. The team received over 4,000 reaction videos and edited select clips into a 90-second compilation video that drove nearly 100,000 engagements across the Dodgers' social channels.
Greenfly's new UGC playbook outlines best practices for teams using +Engage and how to get the most out of your UGC efforts. It also includes more than 26 examples of successful UGC campaigns for your social team's creative inspiration.
As Instagram's Add Yours sticker demonstrates, some of sport's best content creators are sports fans. Jumpstart your UGC activities today — there is an increasing array of opportunities to activate fan-generated content with the right UGC marketing strategy and software solutions in place.
Want to hear more examples and ideas or learn about Greenfly +Engage? Send us a note OR submit a video on our +Engage demo page!