Quiz time!
Without peeking, which of these two social media posts featuring Bayern Munich winger Serge Gnabry drove more impressions and engagements on Instagram for the Bundesliga?
If you guessed the athlete selfie post on the top, Option A, you're well on the way to understanding "all-access" content.
The top post, a candid and intimate video, generated 900% more engagement than Option B. This is a typical example of the new type of short-form digital media that is shaping both consumer preferences and fandom today. And, you've also discovered why leading organizations are transitioning their budget and time investment from glossy agency creatives to authentic creator-led digital content production.
All-Access Content Is Immersive and Engaging
All-access content is short-form digital media photos and videos that are personal and look like they were shot on a mobile phone. Because they were. All-access content is the new currency in content for brand, entertainment and sports organizations. Media rights for this type of content are predicted to leave linear broadcast rights in the dust in just seven years.
All-access content is revolutionizing both sports and sports broadcasting as it enables rights holders and broadcasters to bring digital fans closer to the action with an "all-access" behind-the-scenes experience. That's what fans expect now. Engagement with this new content builds more authentic relationships with them AND unlocks new revenue opportunities.
All-access content is powering the platforms that Gen Z spends much of their time with, including Instagram and TikTok. In fact, it has made TikTok the fastest-growing social platform ever.
And all-access content delivers a VIP, behind-the-scenes content experience on game days and beyond that broadcast TV clips cannot. It immerses fans in the pageantry and emotion of live events and gets them closer to their favorite athletes, talent and brands. This content is also transforming how sports teams, leagues and associations are connecting with global audiences rather than just keeping it local.
If you don't have a strategy for capturing all-access content and using it to engage fans, now is the time. Leagues like Major League Baseball and Bundesliga have already proven the effectiveness of all-access content. It's not a question of "If?" for your organization, but "When?".
Why Do Fans Love All-Access Behind-the-Scenes Content?
On social media now, fans are used to getting content that goes beyond info, news, game highlights and staged interviews. They want to experience events as if they are there in person. They expect the teams, leagues and players they love to produce the same type of immersive content that their favorite influencers and creators are already producing. That's because they want to connect with real people, not faceless brands.
Going behind the scenes (#bts) of a live event is special and immersive for audiences. It offers them the feeling of being there — a more vibrant sensory experience. And it lends an air of exclusivity — this content is special and can be offered exclusively on owned channels. The creators capturing all-access content with their mobile phones in hand can now go everywhere — especially where broadcast teams can't or won't venture.
All-access content can drive 900% more engagement per post on digital platforms.
Fans prefer this behind-the-scenes content itself because it's raw, unedited and nearly boundless. And it isn't censored — it's authentic and real, conveying the passion of sport, not just the motions of a game.
The organizations that have embraced these shifts in content consumption have recognized that:
Fans are global and on social media platforms and mobile apps 24/7.
Most of them will never see a live match in person.
Casual fans will rarely watch a full match on TV.
Attracting casual fans with captivating content is possible; that's the first step in converting them to loyal fans.
Even loyal fans watch games, races and matches on two screens — mobile first.
Short-form media keeps fans engaged and connected all week long — not just at game time.
What Is All-Access Content?
All-access content refers to short-form videos and photos captured specifically for digital channels. This type of content is what it says: "all-access" means creators can go anywhere — locker rooms, parking lots, dugouts and team benches — and reach beyond what broadcast cameras can pick up for fans at home. An all-access pass provides a VIP immersive experience through the eyes of the creator, and when fans see it, they feel like they're capturing the scene through their own camera.
All-access content is frequently shot as 9:16 vertical video, so it's perfect for mobile viewing. It can include just about anything unique to the event, teams or venue. This could be behind-the-scenes content footage, interviews and other types of content that give the audience an in-depth look at a particular subject, event or person.
And all-access content can be captured on mobile phones and professional DSLR and mirrorless cameras. It's recorded primarily in vertical orientation rather than landscape, so it fits perfectly into the video and photo containers of today's social platforms. All-access videos are short, usually around 15-20 seconds, but almost always less than 2 minutes in length.
All-access content on game day can include:
Player arrivals, warm-ups and locker room prep
Sideline experiences
Festivities around the game (pre and post)
Behind-the-scenes moments at the venue
Impromptu athlete and coach interviews
Instant fan reactions
Partner activations
And even beyond game day, organizations can capture all-access content during:
Trainings
Press conferences
Drafts and player signings
Fan Appreciation days
Kit and merchandise drops
And other events at owned venues
All-Access Content Is Perfect for Social Media and Owned Platforms
Some leagues and other sports properties responded to these trends on their social channels by serving fans repurposed game highlights and clips from their broadcast partner feeds. But there's been a growing understanding of how different these mediums are for audiences and what content resonates most with each.
Casual sports fans may not be tuned into a live broadcast, but they're interested in the short-form video slices of the gameday action that can slide into their social feeds. In this way, all-access content helps rights holders expand audiences instead of merely serving the same loyal fans.
Organizations have found that basic live game footage is not the best-performing content. While clipped broadcast highlights are very valuable on social platforms, they're the standard news narrative. This footage might have an emotional component, but not the same level as an athlete telling the world how excited they are to score that buzzer-beater.
What resonates most in social environments — and what fans really crave — are the unpolished and exclusive moments outside of the broadcast and game play.
These raw, behind-the-scenes content snippets captured off the pitch or court are built with social media audiences in mind. They almost always perform better than refined images and highlight clips — driving more likes, shares and comments.
You can't connect personally with every fan. But with social- and mobile-first platforms and all-access content, you can give them an in-depth VIP experience from anywhere. And you can bring match day to global audiences like never before.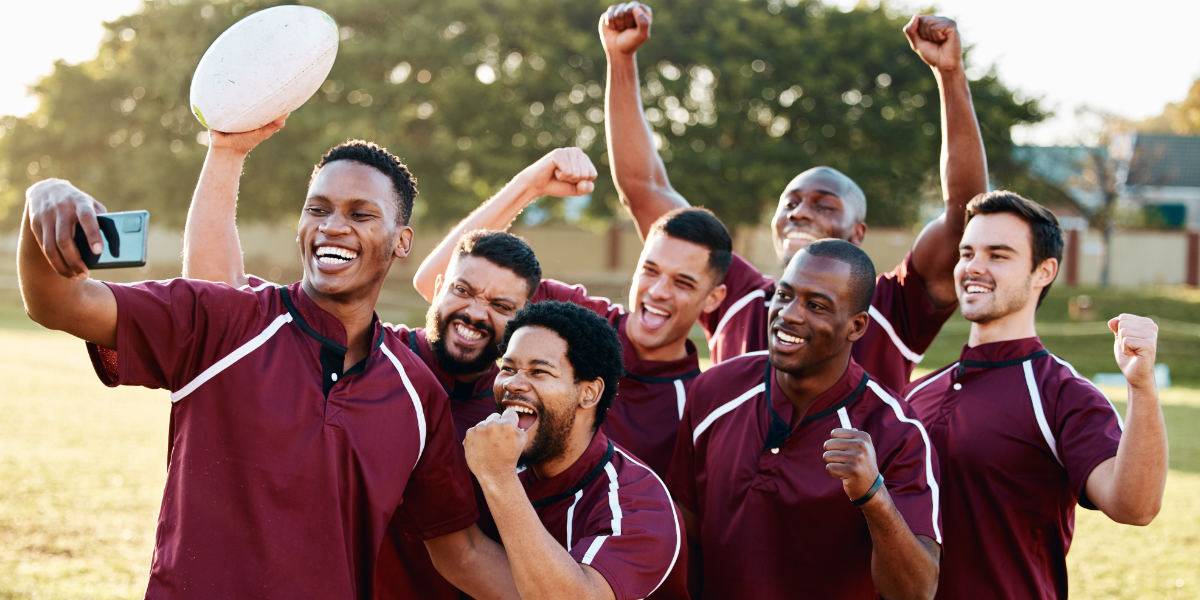 All-Access Content Is the Future of Sports
This bite-sized, mobile-first and "social-ready" original content is now a core requirement of today's sports experience. And fans want it straight from their favorite clubs and players. It makes them feel like they're a part of the action, letting them interact directly with it. So they need it in real time, when it happens.
Look at some of the newer sports leagues like the Premier Lacrosse League or the National Women's Soccer League. They've learned how to build passionate fan communities and lucrative partner relationships in their markets from the ground up by becoming social-first. In addition, they've leaned on their ability to give fans the all-access digital content they want, when they want it, to great success.
And established leagues like the English Premier League have transformed their content strategies to prioritize original all-access content that drives their fandom.
Beyond social media, all-access content also helps to connect with sports fans across digital channels. These channels include owned mobile apps, websites and OTT streaming services. And this behind-the-scenes content now even lives within linear broadcasts to supplement live feeds for fans engaging on multiple screens.
How Can a League or Team Capture All-Access Videos?
Sports leagues, federations and other organizations of every size are reimagining their content operations to add all-access content to their strategies.
They've set up in-stadium, all-access content collection programs to gather hundreds or thousands of original photos and videos.
These organizations tap into many behind-the-scenes content sourcing options, which include creators, in-house creative staff, freelance photographers and fans. These content creators are experts in what content resonates with audiences and can capture these digital assets using mobile phones or DLSRs. Competing teams are another great source for all-access content, offering prime perspectives from their side of the stadium.
The leagues generally start with any one of these content sources and grow from there. For a complete gameday experience, they typically combine a few of these for a variety of media in different formats. This approach makes sharing on different social platforms easy.
The sports organizations then distribute their collected behind-the-scenes content immediately to dozens or hundreds of partners, clubs, internal teams and athletes.
With all-access content, they've been able to satisfy their biggest stakeholders, build revenue and engage fans everywhere.
What Is a Live Capture Program?
Typically, leagues, events or competitions will manage a purpose-driven all-access content collection program. These programs enable the capture of all-access content during live events — even across multiple venue locations on game day — and deliver that content to end users seconds later.
A sports league or competition will enlist or hire a team of live content creators to cover each stadium or venue. Each creator has an all-access pass to get behind the scenes. Each creator is also given specific instructions on what photos and videos to capture and where to roam. These creators have specifics on what's off limits, but their goal is to reflect the feeling, emotion and atmosphere of the game or event. And real-time feedback from the program admins provides immediate feedback on their creations.
Behn-the-scenes content can be routed automatically for access by end users – the social media team, marketing team, comms team, or external partners like broadcasters and sponsors. All of this content can be shared social media pros at the league level during each live event. It can also be shared with each team's social media managers and creative teams. Sports organizations can also quickly curate and publish all-access content directly to their own mobile app or website to keep fans engaged during events, and for days after.
What's the Difference Between a Live Content Creator and a Photographer?
Live content creators are videographers or photographers, but they differ in some key areas.
First, photographers at sporting events are typically restricted to specific areas of an arena or venue. Creators have an all-access pass; they can roam anywhere, from the dugout or bench to the locker room to the stands, parking lot or ticket stalls. They're not lugging heavy or bulky video equipment, so they don't have technical restrictions or burdens.
Second, the all-access content that creators capture isn't polished or edited. That's exactly the real experience and vibe fans have been conditioned to expect on social media. Creators can get closer to the action and the athletes. They're typically full-time or part-time staff, and leagues or organizations compensate them directly.
Conversely, photographers will take precise, high-quality shots of the action as it happens. But those images aren't typically available until after the event; sometimes the next day. They're also generally limited by time and access to the action on the field or court. And they don't cover all the players, the crowd or the vibe at the venue. Photographers can be in-house staff or professionals compensated by media outlets or media licensing companies like Getty Images, AP or Imagn.
Phone Camera or Pro Camera?
Creators can upload digital assets as they capture them from phones via 4G or 5G or an in-house high-speed wireless network. Modern mirrorless pro cameras and DLSRs have options to deliver images in bulk to an FTP server or a cloud file system like Google Drive, Box or Dropbox. Any of these capture devices have their advantages: pro cameras are usually better quality and have longer zoom, mobile phones capture in native 9:16 portrait mode. The key is real-time upload or sync. Assets from cloud file systems can be immediately imported to Greenfly, and Greenfly's mobile app can upload content from mobile phones in bulk in the background.
Images captured on phones can be uploaded with metadata and tags describing the event, photographer, and contents of the assets. With a bulk upload of multiple images, images captured on a pro camera typically don't have tags and require manual classification by a person during or after the event to organize them.
How To Get Your All-Access Content to Digital Fans and Stakeholders Fast
The Greenfly platform enables this new type of media to reach audiences far beyond the limitations of linear broadcasts — and with more flexibility than OTT broadcasts.
With it, organizations can collect all-access content from dozens of content creators and photographers at live events and year round. They can upload photos and videos in bulk with the Greenfly mobile app or through any cloud-based file-sharing service to a cloud-based media library. Greenfly brings these multiple content sources together to make organization and sharing easy.
Through intelligent, AI-powered routing, Greenfly helps you implement a centralized and automated, real-time digital content flow to curate and deliver that behind-the-scenes content while a competition is still in progress. Audiences, broadcast partners, sponsors and other stakeholders have it in seconds.
Digital teams can integrate all-access content operations seamlessly into your existing digital, mobile app, production and broadcast tech stacks. All while reducing or eliminating manual work at every step.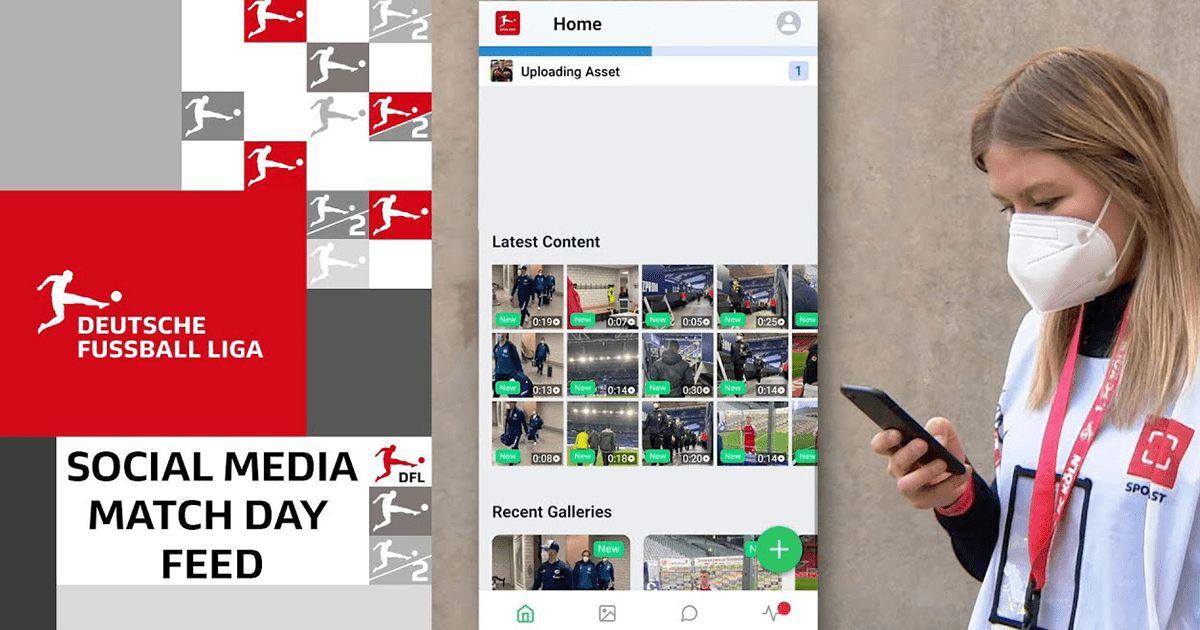 All-Access Content Success Story: DFL Social Media Match Day Feed
DFL Deutsche Fußball Liga (DFL), which manages media for Germany's top football leagues Bundesliga 1 and 2, launched their Social Match Day Feed, powered by Greenfly, to support over 50 broadcast TV rights holders.
The DFL leverages content captured by social media creators in every stadium on match day. This content takes under a minute to travel from creators' mobile phones to each broadcast rights holder. These rights holders then use it during matches to keep audiences engaged on two screens — in their languages and geographies.
The Social Media Match Day Feed has grown to deliver media directly to Bundesliga clubs for their official social channels and to commentators and sports personalities for show promotion.
Start Capturing All-Access Content Today
Today's fans are remarkably different than those a generation ago — or even a few years ago.
They've got a lot of digital options for sports and entertainment experiences and much content to wade through every day. It's up to you to deliver them the all-access content that will make them sit up and take notice. They'll return that gift with more engagement and activation with your sports property.
Reach out to our team of experts to start reimagining your content strategy and reach your fans with the all-access content they really want.