If you're managing broadcast rights deals for a sports league, sports competition, or a national association, you've got your hands full trying to attract and entertain a new generation of digital-first Gen-Z fans. You may not realize that you also have a gold mine of digital media rights to help you do just that. And at the same time, can drive more value for broadcasters and increase revenue opportunities with your digital rights-holding partners.
Between social streaming services, OTT broadcasts and many more digital platform choices, commercial directors and creative directors have a lot to navigate this year. It's harder than ever to optimize long-term deals as TV audiences become more fragmented and younger viewers engage more on mobile devices. However, it's a great opportunity for sports properties to help their rights-holding broadcasters drive tune-in by giving them (or upselling) digital media rights packages in addition to linear broadcast rights.
Over the past few years, younger sports consumers have continued their march toward total digital consumption. 74% of Millennials and 71% of Gen Z sports fans now say they stream sporting events online. Many broadcast rights deals have started to shrink — and more multi-platform streaming deals have expanded. The traditional means of linear TV broadcast, viewing and measurement just aren't built for today's digital-first consumers.
But digital media is.
Selling Digital Media Rights Is Now Happening
Most notably, more and more younger fans are watching snippets, highlights and behind-the-scenes action rather than full games. It's no wonder. A Media Chain study of young U.K. adults found nearly two-thirds preferred getting sports content this way. Because of this, even an on-demand, mobile-friendly OTT experience won't be enough to keep their attention and keep up with their on-the-go lifestyles.
Sports properties are catching on to the short-form digital media rights they're sitting on. And the value those bring to them and broadcast partners. The NBA, for one, offered a digital package to give fans access to just the fourth quarter of games. At the same time, sports organizations are enhancing linear broadcast options with extra non-live digital media assets. These include event day clips, exclusive staff and athlete commentaries, and more. They expand global fan interest and broaden their revenue-generating opportunities.
They know this non-live content is now as important as live video to their future success.
There's Major Promotional Power in Digital Media
Sports leagues, teams and events capture new content every game day that's perfect for sharing on social media and digital channels Rights holders can leverage this short-form digital media to increase revenue, and also use their existing library of digital assets, or by producing new and original digital content. "Premium" digital media rights packages filled with this media are now sold alongside linear-only ones. This powerful combination commands a higher price and generates incremental revenue for the deal.
There's more value for the rights holders, broadcasters and sponsors alike. Bundled non-live content helps all these groups engage and activate new fans on new platforms. For example, they can promote live streams across their digital channels in the languages and regions they might not address directly to expand global fan communities. And sports organizations can also use them exclusively to create strong, direct connections with fans.
Because of this huge opportunity in view, sports properties are now packaging and syndicating short-form digital media rights as part of core value offerings to broadcasters. They're no longer separate options. Combining broadcast game rights with digital assets creates several benefits:
More assets create more promotional opportunities
Assets shared on social channels amplify organic reach
Short-form assets used in broadcasts drive tune-in
Enhanced broadcasts with digital assets engage fans in new ways
But managing and delivering digital media to all broadcast partners when and where they need it can be a challenge in itself.
Capture and Share Short-Form Digital Assets for Gen Z
Let's be clear here – short-form digital media is NOT the same as linear broadcast highlights. This media is not clipped from live streams, it's captured at the game, in the moment, by social media Creators. It's purposefully not polished, not captured with the most expensive cameras. It's raw, it's authentic, it's imperfect and that makes it attractive to younger viewers. They seek this authenticity and are turning away from polished 'perfect' videos.
Broadcasters want this short-form digital media and they can't capture it themselves – they need you as the rights-holder and your creators to do it for them. When they have access, it has to be easy to receive in real-time and share to viewers on live broadcasts, to deliver to TV hosts, talent and spokespeople, and to share on their own regional social media channels. Rights-holding broadcasters are now looking for a "boxed set" of digital media rights packages that work to appeal to digital-first audiences. This outcome requires content capture, organization and delivery outside of a media asset management system.
Sports properties need a new system to manage digital asset repositories and assign rights. Importantly, they require a centralized hub for media collection and different levels of control and oversight compared to linear broadcasts.
Such broadcasts may use multiple cameras, video clips, highlights and stats, but all the assets are synchronized centrally before distribution. Fans at home only see the finished broadcast product.
However, digital media assets can come from a wide variety of sources, including photo services, fans and user-generated content. And, increasingly, they're coming from Live Content Correspondents (LCC) programs. LCCs are getting up-close views that aren't possible from broadcast footage. They also tell unique stories to create a sense of intimacy for fans.
These digital videos and photos can create a more compelling and engaging storyline for fans. However, they can also create a firehose of content that must be stored, tagged and distributed in large volumes.
Leagues Are Transforming Digital Media Flow and Tune-in
To efficiently handle these digital assets, sports organizations are turning to centralized digital media flow management software. This technology enables properties to orchestrate the organization and delivery of digital media to broadcasters. It does this by automating the collection, classification, curation and distribution processes. Automation is the only way to scale these assets for maximum impact. The content is most effective when distributed rapidly to partners and audiences on game day.
This is where Greenfly comes in. The Greenfly software platform manages digital media flow, collecting assets from almost any source and delivering them to broadcast partners quickly and efficiently. Intelligent routing automates global distribution and syndication while games are still in progress. Thus, the digital media is primed for in-broadcast inclusion.
Sports leagues and more can create digital media rights tiers within deals. With these, they can build value and empower rights-holding broadcasters to advertise, endorse and promote this content more frequently. Digital media also eliminates geographical borders. While some broadcasts are only available in select markets, these assets can go anywhere, depending on the digital media rights granted. In addition, broadcasters can give it to on-air broadcast talent to integrate into their shows and promote to their social media audiences. For fans, this content sweetens the broadcast experience, which keeps them tuning in for more.
Overall, building gameday media, collating it and automating distribution across rights holders and platforms creates a more immersive experience for today's fans. This media also offers an inventive way for sports properties to generate revenue.
A Digital Media Rights Success Story: DFL
DFL Deutsche Fußball Liga, the governing body of the Bundesliga 1 and 2, is bringing in-stadium content directly to fans. Using Greenfly, DFL uses a "glass-to-glass" strategy to enhance its broadcast deals with digital media rights. This starts with the glass of the camera lens and ends with the glass of television and mobile devices.
Every match day, the league's own social media creators capture authentic, mobile-first digital media. DFL's innovative "Social Media Matchday Feed" delivers this content immediately to broadcast partners and then to global audiences.
With Greenfly, the league has been able to unify all its digital media into a centralized system to create a large volume of high-quality and relevant social content. They distribute that to over 50 regional broadcast partners every match day. The content hub makes everything organized and accessible. Further, upon content capture, intelligent routing and curation move media assets into the system and out for distribution in a few short minutes. As a result, this speed helps drive global fan excitement and engagement with live matchday action and greatly enhances DFL's partnerships.
Broadcasts may be packaged and polished. But delivering raw and authentic footage, photos and other content allows DFL fans outside the stadium and worldwide to get the same thrill of being in the stands. It enables them to experience the Bundesliga brand more with every match.
"In a very short turnaround time, we've created over 30 million impressions already on content pieces that have been created on top of our normal content production." — Andreas Heyden, CEO of DFL Digital Sports GMBH
Digital Media Rights Drive Future Success
Digital media rights have opened up new opportunities for sports organizations everywhere. With it, you can make the most of new or existing broadcast deals and secure your future fortunes. Now the rest is up to you. It's time to monetize your digital media.
Contact us today to learn more about how you can build awareness, increase loyalty and generate new value and revenue from your digital media rights. And get more insights in our free, complete guide to building sports revenue through digital media.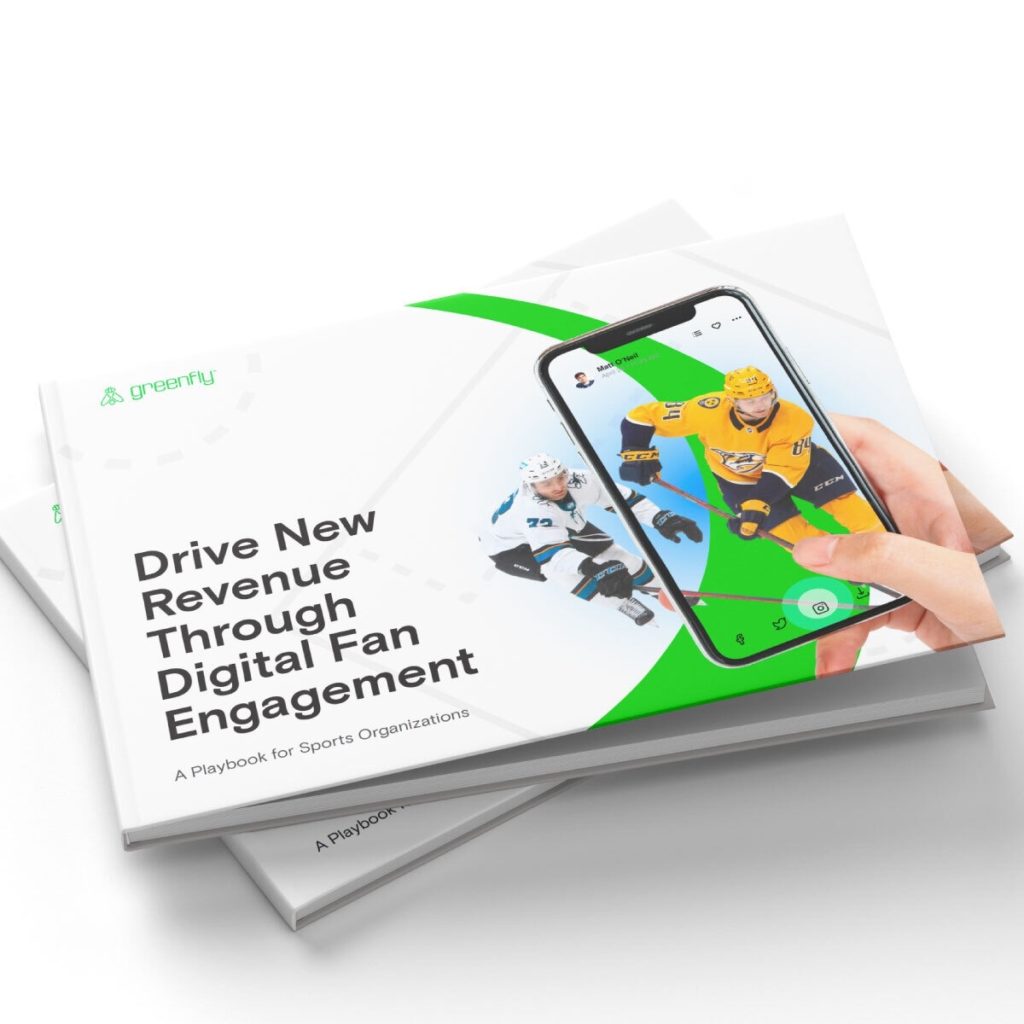 Drive Sports Revenue With Digital Media
Learn about the new ways sports teams and leagues are building fan engagement and broadcaster revenue with digital media.