The best solutions for media, TV and sports organizations to gather photos and videos from staff, influencers, athletes, photographers and social media creators at live events.
It should be easy to collect photos from a group of people, but for many reasons, this isn't as trivial as it sounds. Over half a million photos can fit in a hard drive that you can hold in your hand, but organizing that many pictures without some high-tech help is nearly impossible.
Technology has come a long way, but if you ask ten people how they would gather photos from a group, you'll get 11 or more different responses. Collecting photos is even more daunting for a business seeking to gather them from different groups, departments, teams, or staff. And collecting media from customers, influencers or ambassadors is an even bigger challenge.
We offer a quick but complete review of over a dozen different options (a baker's dozen!) that make it possible, and sometimes easy, to collect photos or videos from groups of different sizes. Some were designed for personal use, but some are robust business solutions that can streamline the media request and collection workflow for ambassadors of all types.
Sharing photos with large groups is equally challenging but for different reasons. Understand the best solutions for sharing photos with large groups here. And the best system for sharing photos with clients if you're a professional photographer.
Tip: If you're looking for an enterprise solution, click here to jump to the only option made specifically for businesses.
What is the Best Software to Gather Photos or Videos From a Group?
You went to an event with a team of 40 staffers, creators and photographers, and you want to gather the best of all of the photos they took, each from their own perspective. If there was a go-to platform for businesses to collect photos from a group, you wouldn't need this article.
If you're evaluating media gathering and sharing options for your business, you'll need to have a good idea of what's important to you and your organization. That may mean a focus on ease of use, or perhaps more of a concern for privacy and security. You'll need to know how many people you want to collect videos from, whether you want them to be anonymous or named, and how often you'll be collecting media from users. The system you need may need to handle videos in addition to photos. Your business should also consider total storage capacity, individual file size capacity, and whether to preserve full-resolution video and/or larger high-quality images. Would a web-only solution suffice, or do you need a mobile app for users so they can upload immediately? How about private group messaging so you can communicate, or what about sending explicit requests for specific photos to a group so they can respond?
Those are just a few of the many factors to keep in mind as you read through the pros and cons of the group photo collection options detailed below. Without further adieu, let's get started. (Solutions are listed in alphabetical order, our Editor's Choice is Greenfly).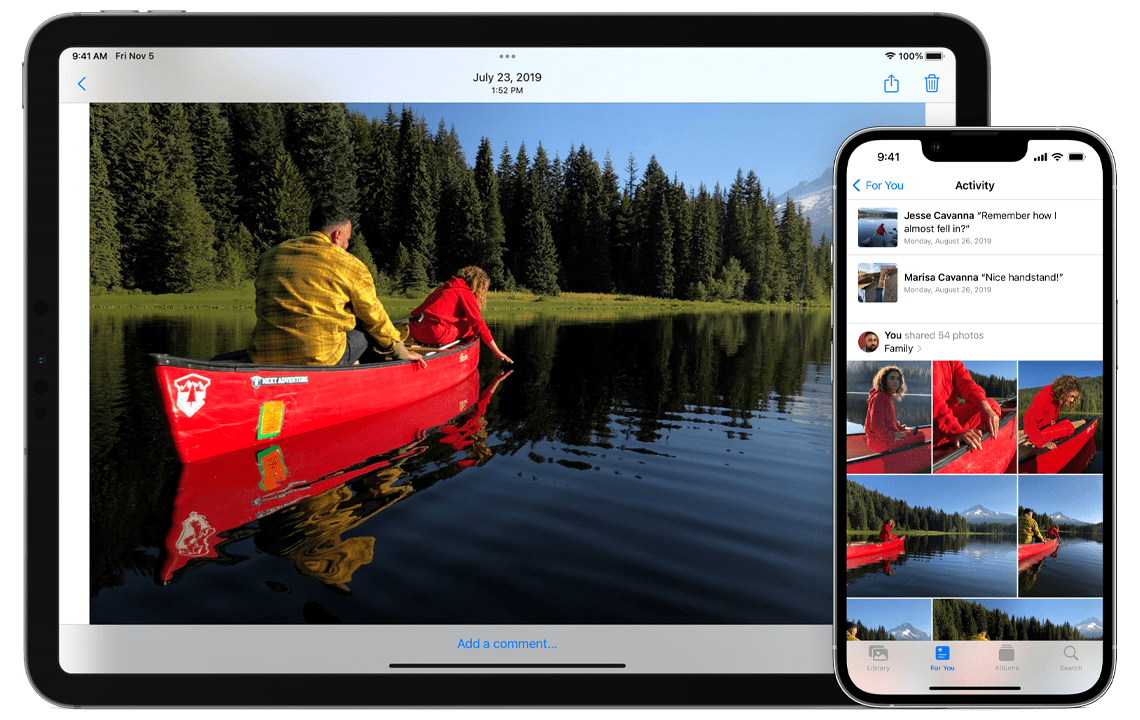 Apple Photos
Rating: 4 (out of 10)
Use: Personal
Best for: Close friends and family with Apple products
Apple Photos is an iOS app for mobile and comes with MacOS on every Mac computer. It will be very familiar to any Apple user. It's a good tool primarily designed for managing your personal collection of photos. But shared albums can be collaborative, and if you're clever, a limited way to collect photos from a group.
Pros
Other users (friends and family) can be invited to a shared album via your contacts, or by email, phone number or SMS. There are also multiple levels of access. An invitee can either have the ability to add photos to the shared album or be restricted from doing so. These albums can also be shared for public viewing via an iCloud URL. Apple Photos can handle both photos and videos and does maintain full resolution. Though keep in mind you'll need to pay for more storage space once you hit the capacity limit. Apple photos also offers notifications, so it's easy to keep track as photos collect in the shared album.
Cons
The most obvious potential flaw is that the platform works on Apple products only. PCs and Androids are out, which is 50% or more of your friends and family. While you can still contribute to a shared album even if you're not an iOS user, it is not an optimized experience. The close ties also mean that if you delete a photo on your device in Apple Photos, it also deletes in the shared album on your iCloud and is lost forever. It's hard to administer an album that multiple people are contributing to, and there is no built-in communication in the Apple Photos platform, which hinders collaboration. While photos do have location and time stamps, there is no other way to organize the photos using tags, and no metadata possible with the files. As noted above, iCloud storage space can be very costly, so an enterprise user will end up paying for more. There is also no integration between Apple Photos and other platforms, such as digital asset management (DAM) or cloud storage.
Cluster
Rating: 7
Use: Personal
Best for: Family and friends (even grandma) with limited video needs
Cluster bills itself as 'private group sharing with friends and family.' It has options to share video, photos and notes. The mobile app is like a mini multimedia-based social network for small groups and can be useful to gather photos from a group.
Pros One of Cluster's best traits is the simplicity of the user interface. It's designed so that even your grandma has no trouble navigating and using the app. Members are invited to join a group or an album via a web link, making access easy (too easy?). Or members can be added via your phone contacts or a unique invite code. The diverse options for onboarding allow someone to select which works best for their group. Unlike some of the other options here, Cluster does handle both photos and videos with no apparent limitation. The app also has notifications, allowing users to keep up with any and all updates.
Cons Cluster is built for friends and family, and that means it's not designed for business or enterprise use. Videos are compressed and length is limited to ten seconds. There is also no way to annotate shared photos and videos, so searching and filtering is difficult, and things can get very messy as volume increases. Communication tools are also completely lacking. Users can comment on photos and videos uploaded, but there is no messaging feature to discuss submissions. Finally, downloading a single photo or video is simple, but bulk uploading and downloading is clunky. The only way to bulk download is to download all of one's content, which is then emailed as a ZIP file, and that makes editing a few files a pain. Sharing photos on social media is also not natively supported.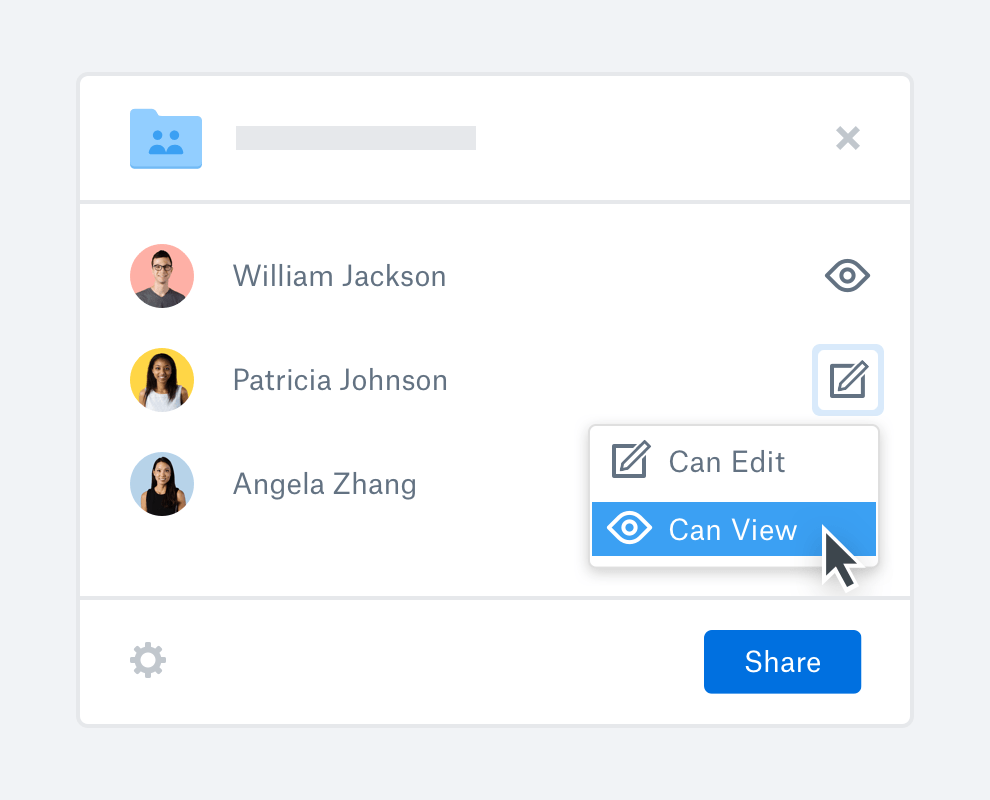 Dropbox
Rating: 5
Use: Personal or Business
Best for: Those looking for a place to store photos or videos
Dropbox is the cloud storage platform used by many businesses. Dropbox is typically thought to be more about sharing PDFs and Powerpoints, but you can use it to collect photos from groups, too. There are definitely better alternatives to Dropbox if you want to collect or share media.
Pros Dropbox's folder structure is easy to understand and it's a well-known name and trusted brand. It also integrates with other platforms like DAMs. There is both a mobile app and a web-based solution for Dropbox and users can be invited to collaborate on a folder via email. Dropbox also does not compress files, so photos and videos will maintain full quality. For business, Dropbox has Business and Enterprise editions which make user provisioning easier, but users still need to manage folder access and sharing permissions.
Cons While shared folders can be created and shared with a single URL, managing files deposited on this link is extremely hard. Dropbox was built for file sharing, not for media sharing or collaboration, and it's hard to see what's new and who added what. Visual display of files in a gallery format is restricted, and it's just hard to see what's going on. A missing component of Dropbox, which reinforces why it's not optimized to collect or share multimedia, is the absence of metadata. Without tags, it's difficult to search and filter pictures collected. Dropbox is also infamous for security issues in the past, and the platform also does not provide for encryption. Dropbox does not have a messaging feature, either, but users can comment on specific files.
Dropevent
Rating: 6
Use: Personal or Business
Best for: Collecting photos during a single event
Dropevent is a web-based platform built to collect photos from groups at events. It has been around for a long time, but remains a simple platform, which is either good or bad, depending on your needs.
Pros Dropevent has one of the cleanest, simplest interfaces, which makes it easy to use. Members in your groups do not have to formally register, but their ability to add photos to an event you create is tied to their email address. Instead of albums, the platform is organized by 'events,' which will tie any photos submitted to that specific event. There is also the ability to email in photos to a specific email address, which will automatically add photos to that event. (But user reviews note that that functionality often fails.) Because the platform is simple and doesn't do too much beyond the basics, the price is affordable enough, depending on how many 'events' one chooses to run.
Cons The Dropevent platform is great for a single event, like a wedding or Bar Mitzvah, but isn't useful for continuous use as an enterprise solution to collect photos from groups on a regular basis. As noted, it is web-based, with no mobile app solution. Photo collections are also tied to individual events, instead of albums. And photos cannot be moved around for any other sort of organization. There is also no metadata and a complaint seen was not even being able to see who uploaded a given photo. We haven't discussed 'videos' either, because Dropevent does not support videos.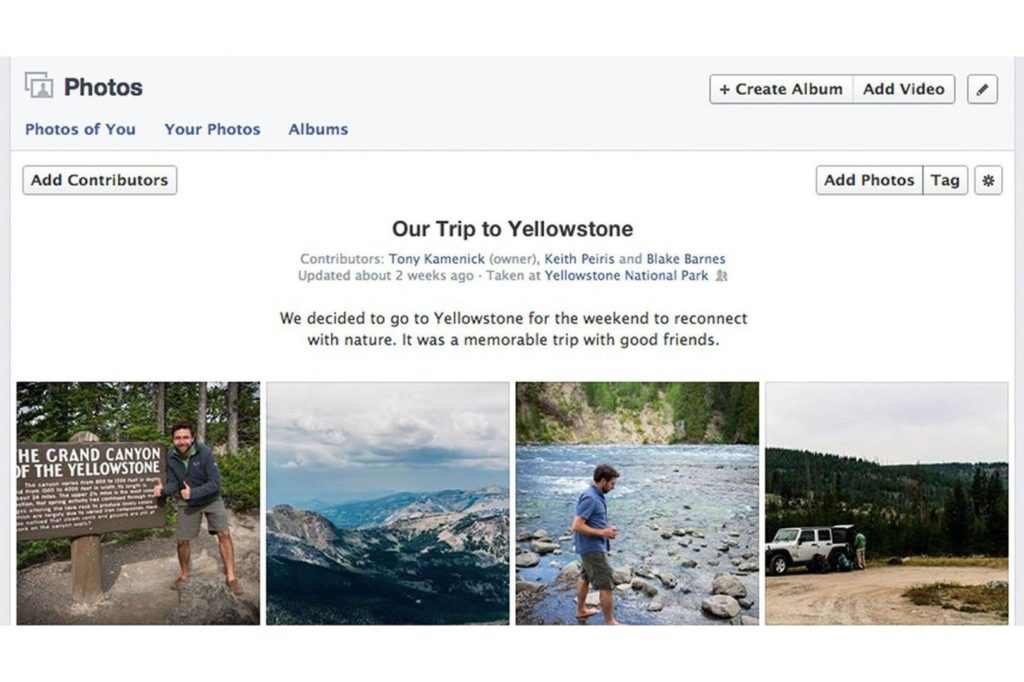 Facebook (Groups)
Rating: 3
Use: Personal
Best for: Active Facebook groups to share non-high res photos and videos
Facebook is a social media network—perhaps you've heard of it? While Facebook isn't known as a go-to group photo collection platform, its shared albums and Groups can serve the purpose.
Pros It's a platform that everybody knows, and any individual user can receive an invite to a shared album from the album owner via their Facebook account. Facebook Messenger can also be used for quick collaborative conversations, as needed. Or a Private Facebook Group can be established to help collect photos from a group in your organization. Photos or videos can be added on desktop or using the Facebook Mobile App, and it's simple to bulk upload photos, too. Existing albums on Facebook can also be merged into a shared album.
Cons Facebook has received plenty of questions over the years about its security and that is one concern off the bat for a business considering Facebook as a solution to gather photos from groups. Contributing to a shared album also requires someone to have a Facebook account, with no exception. Like most social networks, Facebook compresses photos and videos with no option to maintain full quality. And while the ability to bulk upload is good, there is no ability to bulk download photos from Facebook. Another limitation is the album sharing options. You can share to 'Friends,' 'Friends of contributor,' or 'Public.' Also, unless you use a private Facebook Group, there is no easy way to invite a group of users to an album. Finally, Facebook does not have any metadata, which makes searching or filtering a collection impossible.
Flickr
Rating: 6
Use: Personal
Best for: Sharing photos with other visual media enthusiasts
Flickr is still around, even though Yahoo sold it to SmugMug in 2018. And while it's not designed for a business to use to collect photos from groups, its groups feature can do it. This groups feature is more akin to Facebook Groups, trying to unite visual media enthusiasts with shared interests.
Pros To collect photos from a specific group, you create a Flickr group and make it private, or turn an existing public group into a private group. With a private group, Flickr's cross-platform capabilities mean group members can add their photos (or videos) with Flickr's website or apps. Full quality is always preserved, too. Flickr does have organization tools, as well, with 'collections' and 'sub-collections' to house assets. Last but not least, Flickr does have a tagging system, which means you can search and filter photos.
Cons To take part in a Flickr group, you must have a Flickr account. That could be an issue when trying to gather photos from a larger group or many sets of groups over time. There is also storage and upload limits on Flickr, limiting videos to three minutes for non-pro users. (And ten minutes for pro users.) While Flickr does have group messaging, too, messaging is only on their desktop platform; it's not possible in their apps.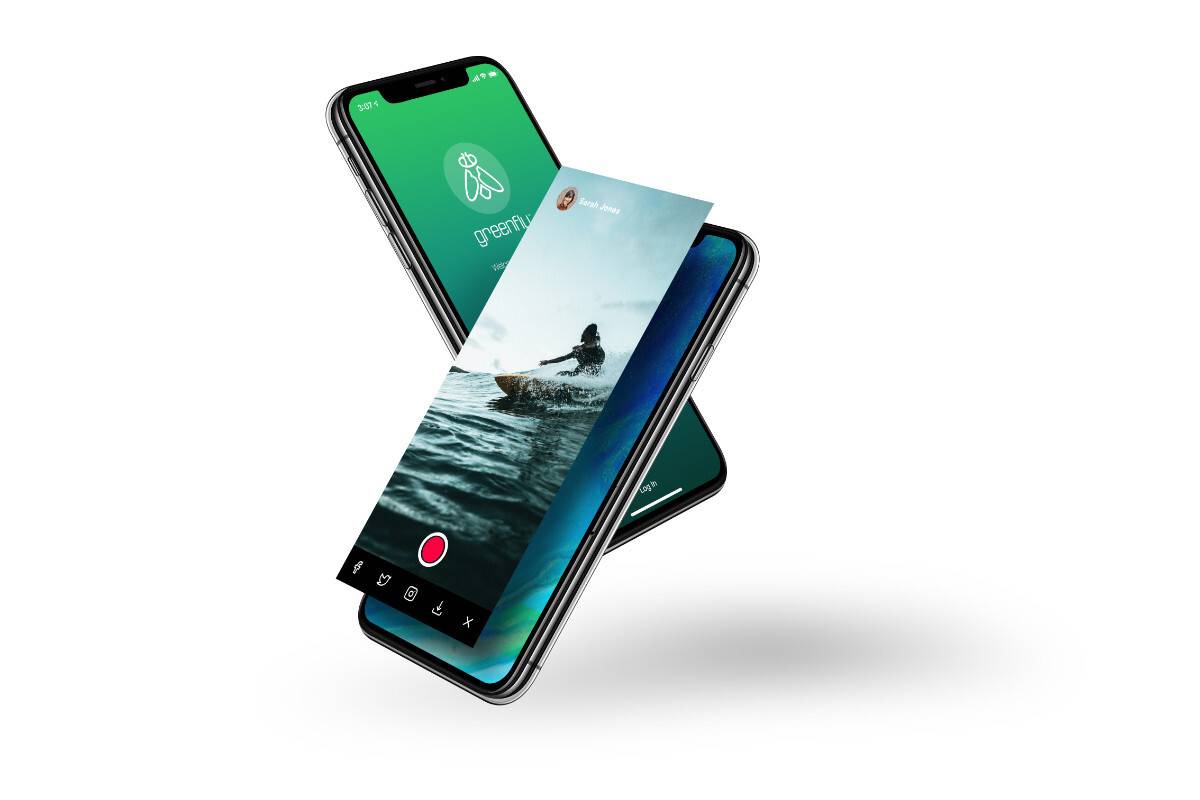 Greenfly
Rating: 10
Use: Sports & Entertainment organizations only
Best for: Collecting, organizing and distributing large volumes of photo and video assets for easy sharing on social media
Greenfly is the industry-leading digital asset orchestration platform, designed for the collection and sharing of photos and videos. It is used by sports, TV, entertainment and consumer brand organizations all over the world to aggregate and provide access to photos and short-form videos to groups of any size. It's optimized for scaled and automated organization using AI, personalized gallery creation, easy administration with multiple levels of user permissions and sharing access. It was built for enterprises with a growing volume of digital assets destined for a variety of digital platforms. Greenfly empowers sports leagues and teams to distribute content to athletes, sponsors, TV broadcasters and other partners of the media rights holder.
Pros Greenfly is built for continuous collaboration with one or more groups. Users, who have access to shared media on the Greenfly mobile app, can be added and managed using simple access codes, which give them access to private channels or galleries where photos and videos. Greenfly is useful for recurring events (like awards and concerts or political campaigns), but is more powerful when used continuously, throughout a season or a year. Greenfly enables administrators to send requests to any or all users for their own specific personal content (like selfies and testimonials), as well as ongoing collection from games, matches, tournaments or behind-the-scenes content that is perfect for social media. It has automated curation and organization capabilities that use metatags and keywords to move content to the right shared galleries. Photos and videos can appear in one or more galleries based on metadata or even filename, making it super easy for administrators to manage – and because it's automated, it can deliver content from a game or event to users in near real-time.
Along with collecting photos and videos from groups, there are no limits on storage capacity, and very large video files can be collected and shared (up to 1 GB). Media is always maintained at full HD quality. Greenfly also makes it easy to communicate with a group and has a built-in private messaging chat function that enables administrators to send announcements and requests or have discussions about specific media assets. Greenfly has analytics, too, measuring activity at the user, asset and galler level. Greenfly is also built with specific media requests in mind. If an organization needs a specific photo or video from a group of users, an admin can provide on-screen scripts and leverage cutting-edge technology that actually enforces camera orientation and duration on a user's phone while they're filming.
Greenfly further activates assets after collection, empowering users to share content directly to social media (where social engagement performance is also tracked). Users can share photos with groups directly from galleries or in response to a share request (with specific post copy and hashtag suggestions, if desired) from an organization's administrators. There is no more robust platform media collection and distribution platform than Greenfly. Greenfly also has some features that increase automation, such as Apple Photos AI-based photo recognition, and it does integrate with third-party sharing platforms (like Dropbox, Box, and Google Drive) and digital asset management systems.
Cons While Greenfly could be used for small, one-off events, it is optimized for continuous business use. It's sold on an annual subscription basis and priced for sports leagues (like Major League Baseball), teams (like the San Jose Sharks) as well as TV networks (like BET). But, it can be affordable for small businesses and consumer brands to help manage their ambassador programs. But, Greenfly is not a personal or consumer platform. So, for individuals looking to collect a few photos from a small group for a one-time event, Greenfly would not be the right option.

Google Drive / Google Photos
Rating: 6
Use: Personal or Small Business
Best for: A small group or team of Google users to collect and organize content by album
Definitely not the best, Google Drive and Google Photos are well-known for file sharing and photo organization, respectively. Just about everybody is familiar with the Google suite and applications. And you can use both Drive or Photos to gather photos from a group but this isn't the most efficient method. (But, if your photos are already stored in Google Photos, they can be accessed for distribution through Greenfly.)
Pros Google's near-universal familiarity is a pro in its corner and a lot of organizations and businesses already use Drive for file sharing. Sharing is easy via Contacts, phone number, email, or URL. Sharing a folder also offers options such as view-only or the ability, for example, to upload photos to a shared folder. The way shared folders work is identical to the way shared albums work in Google Photos. There are unlimited collaborators permitted for Google Drive or Photos, too. Google can also handle any file type, including photos and videos. File names do carry over upon uploading, too, which makes it simple to search for a specific photo in a specific folder. In Google Photos, Google's AI-based tags enable search and filtering by people, places and date.
Cons Like some other solutions evaluated, collaboration happens each time on the folder level. Google's solutions are not built for continuous collection at scale. Businesses will also find inviting a lot of people to share a folder to collect photos to be time-consuming, unless they use the open URL option. That can threaten the security of a shared album or folder because anyone with the open URL can add their own photos or re-share the invite link. It's important to note, too, that Google Photos does compress most photos and has limitations on video. For photos originating outside of Google platforms metadata is stripped. Finally, Google Drive and Photos do not have built-in messaging, so direct collaboration would have to take place on other channels. Neither product makes it easy to publish content to social media networks.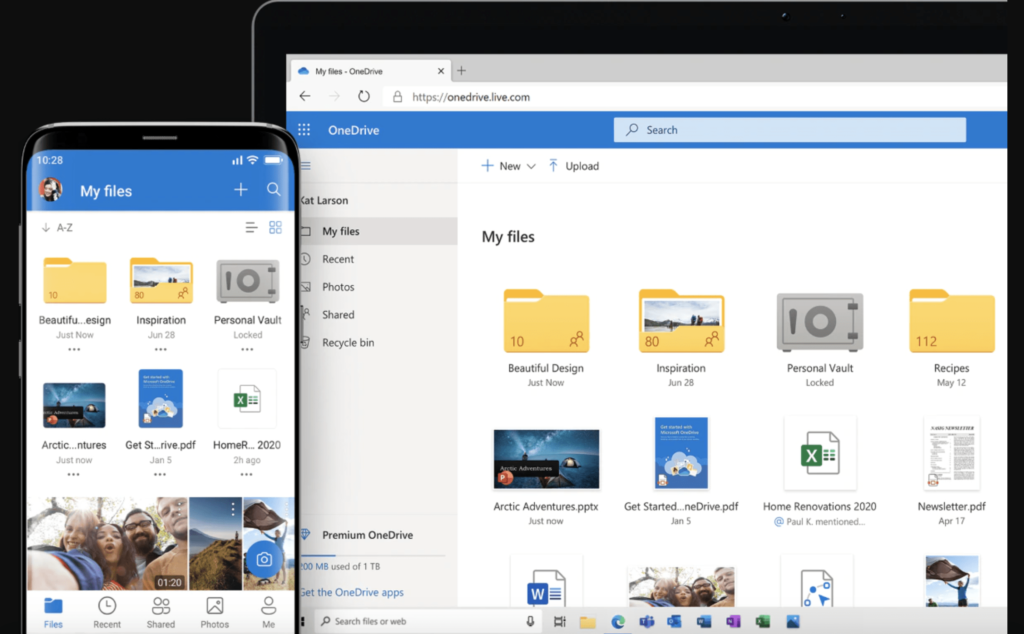 Microsoft OneDrive
Rating: 2
Use: Personal or Small Business
Best for: Storing high-res photos and videos to preserve meta tags
Microsoft OneDrive has shared folders that you can use to collect photos from a group. Even if that's not the typical use case that comes to mind for Microsoft's suites of products like OneDrive, SharePoint and Teams.
Pros Microsoft makes it easy to invite another user to a shared folder via email or URL with password protection as an option. As long as the permission is on to 'allow editing,' a shared folder can then be used to gather photos from a group. OneDrive will not compress any photos collected (though storage space has limits). OneDrive also has built-in artificial intelligence that adds its own tags for search and filtering. Metadata with photos collected will be preserved, too, but in read-only (Microsoft says editable metadata is on their long-term roadmap.) Lastly, OneDrive has both a web-based platform and a mobile app for iOS and Android.
Cons A Microsoft account is not required to be invited to view a shared folder. But an account is required to allow editing permissions and, therefore, the ability for an individual in a group to add photos. If someone is granted editing permissions on a shared folder, they can then also copy that shared album to their own OneDrive, which is a security concern. OneDrive is also not optimized to collect video, with a ten-second limit for videos uploaded. There is no built-in messaging for OneDrive either, though it can integrate with third-party messaging platforms like Facebook Messenger. Ultimately, Microsoft products are optimized for Windows and PC products. If the group has users without Microsoft accounts, this should eliminate OneDrive as the solution for gathering photos from groups.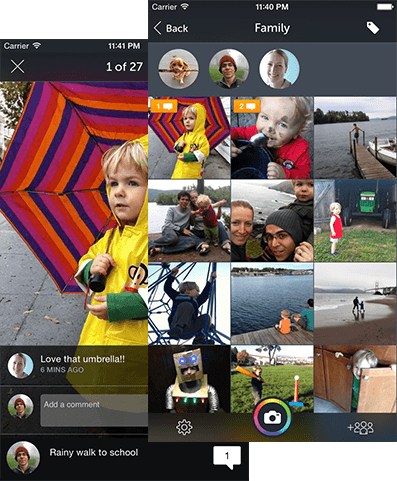 Photocircle
Rating: 5
Use: Personal
Best for: Family and friends to collect mobile photos and videos at a specific event
Photocircle is a mobile app to help families and friends capture memories in a shared photo album. They market their solution as great for 'birthdays, weddings and families.'
Pros Photocircle is specifically built to collect photos and videos from groups, in this case tied to specific events. Users are invited to a shared album via either SMS or email. Once they download the app, it is simple to add photos to the event album. Photocircle does allow for comments, but there is no in-app messaging. The only filtering or data about each asset shared is date added. So you can filter by date added, but no metadata is present or preserved by Photocircle, nor is the 'date added' preserved upon download.
Cons Photocircle is a mobile app only; there is no website platform to manage or use for photo collection. The absence of metadata also means there is no search functionality or filtering by anything besides date added. The platform is mobile-only, which also means it will compress any images taken with a higher-quality camera than your mobile device. Since the platform is built for single shared albums, too, it is not built for continuous collaboration with a group. Individuals have to be re-invited to each individual album. Lastly, reviews on the app stores note a lot of dissatisfaction with the amount of ads in the Photocircle mobile app.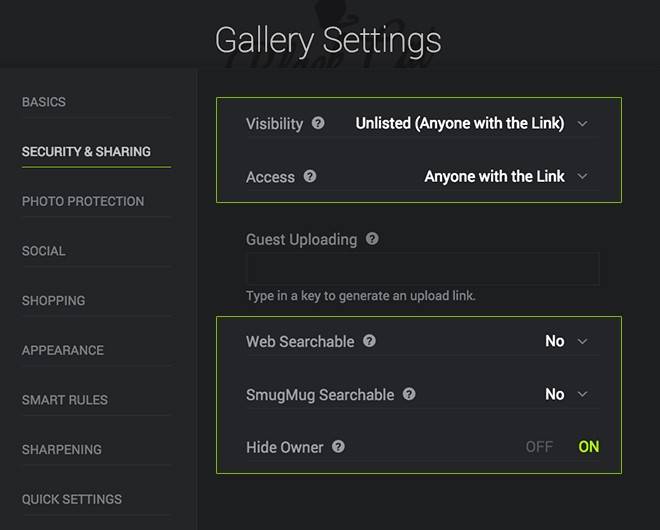 SmugMug
Rating: 4
Use: Business
Best for: Professional photographers to share and sell their photos
SmugMug is a popular photo website built to help with storage, selling and printing. The company purchased Flickr in 2018, but SmugMug also continues to operate, and is aimed at professional photographers. SmugMug galleries can be collaborative and used to collect photos from a group, too.
Pros SmugMug makes it easy to invite guests to upload to a specific gallery via a password or a custom link. All guests invited to a gallery have upload capabilities. SmugMug integrates with most photo software services, since the platform is for photographers. That's also why photos are not compressed, whether uploaded via web or their mobile app (Android or iOS). While not all metadata preserves when collecting photos, photo captions do carry over. Users in SmugMug can manually bulk-add captions and tags to a collection of photos, too.
Cons SmugMug makes it simple enough to collaborate with a gallery. But note that such collaboration only works at the gallery level, not the account level. So a user would have to be invited to each specific gallery if you are gathering photos from a group on a continuous basis for events or campaigns. In regards to metadata, while those captions noted above carry over, keywords embedded in IPTC data are not. SmugMug is built for photo storage and collection, and video is not an option for standard SmugMug accounts. Lastly, SmugMug is not optimized for collaboration. Comments are available, but there are no messaging or conversation elements.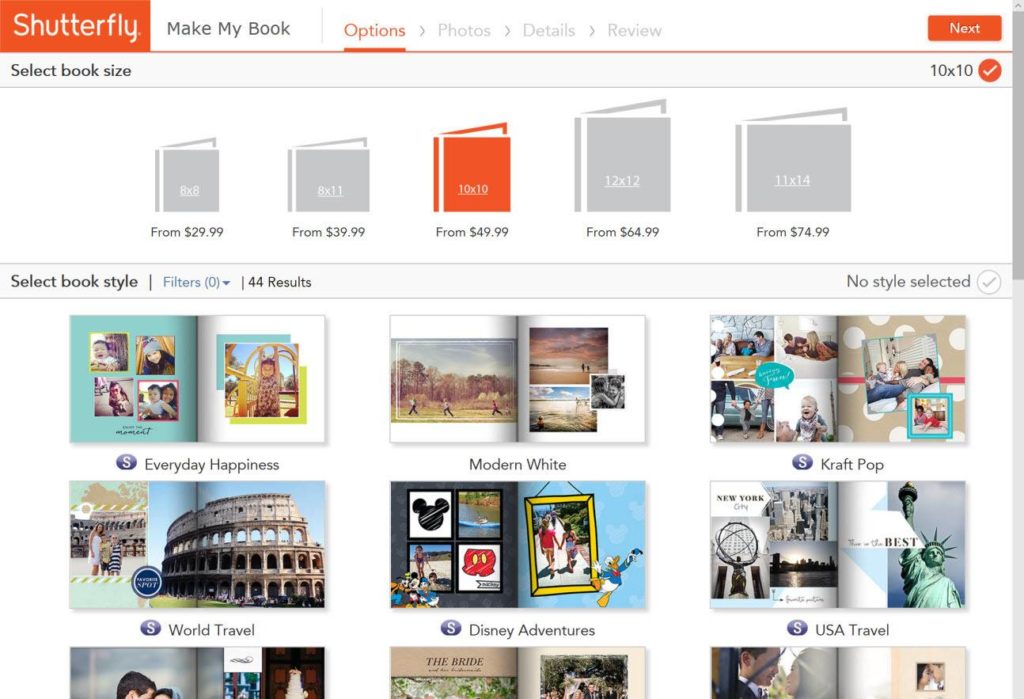 Rating: 3
Use: Personal
Best for: Collecting photos to be printed
Shutterfly
Shutterfly is a photography site primarily built to turn photos into personal physical products, such as photo books, cards, wall art, prints, accessories and a lot more. For example, if you want to put a photo of mom on a coffee mug, Shutterfly is a good solution. You can use Shutterfly to collect photos from a group, too, with shared projects, shared photo books, or unlocked albums. (if your photos are already stored in Shutterfly, they can be accessed for distribution through Greenfly.)
Pros
You do not need a Shutterfly account to get invited to contribute to a shared album or project. The owner of the project invites others via email to the album and, provided it's 'unlocked,' others can add photos to the album. Shutterfly also has a built-in combination of manual tagging and auto-tagging, adding their own metadata. This allows users to filter and search within the album and add their own tags once photos are in the album. There are feedback capabilities, too, with the ability to comment on an individual picture or an entire shared album. Users can also 'favorite' individual photos. Shutterfly also allows for individual download, as well as bulk download up to 500 photos. Lastly, Shutterfly will not compress photos collected.
Cons
Shutterfly is not a good choice for photo sharing with groups. The mobile app is hard to use, and it's hard to organize anything. While Shutterfly has metadata with in-platform tagging, uploaded photos won't import metadata, you have to manually tag photos after upload. On the security side, it's important to note, too, that users invited to an unlocked album can copy the album to their own Shutterfly account. Shutterfly can handle videos, but there are limitations on video capacity. There is no maximum space or quantity for photos, but any use of video will require you to choose from a tiered paid option. Finally, while Shutterfly has commenting options, there is no in-platform messaging on its web or mobile app platforms. Shutterfly is not built or optimized for collaboration and group collection, or for posting to social media.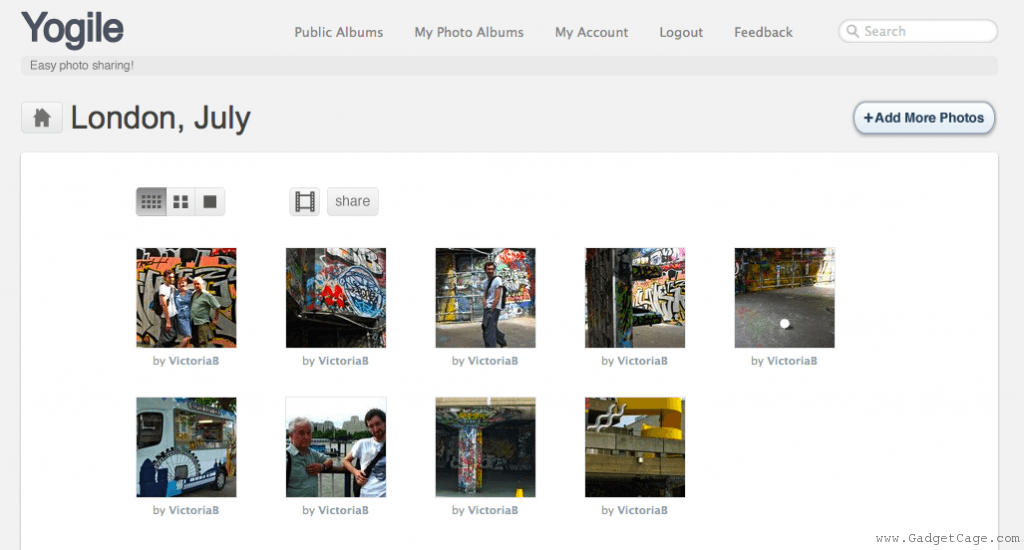 Yogile
Rating: 5
Use: Personal
Best for: Simple photo (no video) storage and collection
Yogile is a low-cost platform with both mobile and web interfaces. It is "photo storage, simplified" in their words. Yogile uses the Amazon S3 platform to allow for unlimited photo storage in the cloud (for users on the pro account). Yogile also allows users to collaborate in an album and collect photos from groups.
Pros Yogile offers easy access to an open album if you are less concerned with privacy or security. It also has a password-protected option for increased security. Albums are shared via URL, email, or SMS and can even be listed in the Yogile app public feed as an open album. Yogile also has the option to require approval from an album owner before a shared photo is added and visible in an album. Even on a mobile app, Yogile does maintain full resolution of pictures, too. While Yogile will not preserve metadata for uploaded photos, there are a few of Yogile's own filters. These include the ability to organize by date, 'favorites,' location, and even camera (with which the picture was taken). Bulk download is possible, too, but the photos are emailed and compressed into a ZIP file. Users can also share to social media straight from Yogile.
Cons Yogile is for photos only. So for organizations collecting media from a group that wants video, Yogile will not be useful at all. There are also reported issues of functionality in the app reviews for Yogile. Reviews note a lack of support and features not working, such as the touted ability to email in a photo and have it automatically added to an album. In regards to collaboration, Yogile does not offer comments nor in-app messaging.
There is no shortage of options out there to collect photos from groups. But when the stakes are raised and a more robust solution is needed for enterprise use, we've found that Greenfly is far and away the most advanced and most flexible system to collect photos from groups of any size. If you'd like to learn more about Greenfly, drop us a line!