In the opening period of 2022, sports executives everywhere have realized that their best bet for revenue success ahead is by thinking differently about the role of athletes – as brand storytellers, representatives, promoters, and social influencers for their league and team.
With the tremendous increase in social media use around the globe, sports execs and sports marketers have seen that players and athletes are actually their most effective marketing channel. They are second to none at engaging fans and audiences and bringing exponential growth to the social media reach and engagement for their team and sport. It's not traditional TV ads or stadium displays that are driving lift and fan loyalty anymore – it's the athletes themselves.
Greenfly recently held discussions, using Chatham House Rules, with sports leaders from across the sports ecosystem. They represented leagues, teams, agencies and brand partners. We listened to these experts to see what trends resonated across the sports ecosystem. We wanted to find out what was top of mind as they formed their marketing and business strategies for the coming year and how athletes fit into those approaches. And whether they were leaning into the concept of athletes as storytellers.
What we learned may surprise you. (For more on Activating Athletes, download this free Greenfly playbook.)
The idea of athletes as brand storytellers is at the core of all of their plans.
Today, collaborating with players to drive enthralling content across digital and social platforms offers sports properties the shortest path to fan devotion and revenue expansion.
Our conversations highlighted what's keeping sports marketers up at night. For them, it's determining how best to monetize their assets and drive sports fans' activation by supporting their athletes as their most effective brand marketing partners.
Evaluating Athletes as Storytellers
In thinking about athletes to partner with, multiple executives called out talent, storytelling ability and marketability as characteristics that rise to the top of their wish lists. Sports marketing execs and commercial directors are trying everything they can to provide more value for sponsors. 
Sports agencies naturally want to represent players who have the potential and capability to make it to the top of their sport and have an off-field presence that attracts sponsors. That means they can tell personal stories about their experiences and the ups and downs of daily life. Agents will start working with athletes as they rise, so they can ride that wave of success together. Key factors for consideration in pairing them up with brand partners are:
The communities athletes are building
Their personal stories about what makes them different
Their authentic passion for and use of a specific brand or product
Partners, in turn, may look at various elements in evaluating athlete partnerships. These include analytics, follower counts and athletes' personalities. All are evidence of their athlete storytelling skills.
The participants found that people follow athletes on social media to connect to their storylines and personalities. Fans are interested in the human drama of their favorite players' lives, both on and off the field. This includes the stories of how athletes overcame adversity to become successful. Following players and their story arcs and understanding how their personal lives intersect with their professional lives becomes part of the drama. When well done, an athlete is both a creator and a participant in their own narrative.
Storytelling and authenticity naturally go together. As one executive noted, that's partly why social media has become so important. The medium allows fans to connect with the athletes they admire more deeply. And audiences want the authenticity that original social content provides. Not surprisingly, it's more real and compelling than any scripted commercial forced on them.
As the group discussed, collaborating with athletes on their original stories provides quality content. It helps their personalities shine through to fans, which helps them become better marketers. And it gives their brand partners more visibility. Successful athlete and sports brand relationships rely on finding the harmony between authenticity and guidance — without overriding their creativity and individual voices.
Building Athletes as Brand Stars
A key area of focus for marketers is creating new sports stars that appeal to younger generations of fans. They're learning how to market and drive exposure for those players and keep them on-brand. And they're discovering how to help them balance building their athletic careers with developing their personal profiles on social media.
Sports properties are learning how to best educate and support players to help them craft their own brands and understand why that's important to their success as commercial athletes. Meanwhile, agencies are continually helping their athletes monetize their personal brands. They're accomplishing this by finding the right partners with which they can align themselves as they grow their careers.
Some sports organizations are making good use of direct access to players to nurture them. One marketer said they send encouraging direct messages and social copy and hashtag suggestions to their athletes. They do this to help build a sense of community, loyalty, spirit and pride in developing their social brands alongside the property's brands. They coach them to be active on social media, giving them tools like Greenfly to do it. And, they share real-time data an information to help the athletes understand the impact of their social content activities. 
From an athlete's perspective, teams support athletes' brands holistically. Athletes look to their teams for content to build the value of their personal brands on social media. At the same time, they deliver value back to the team.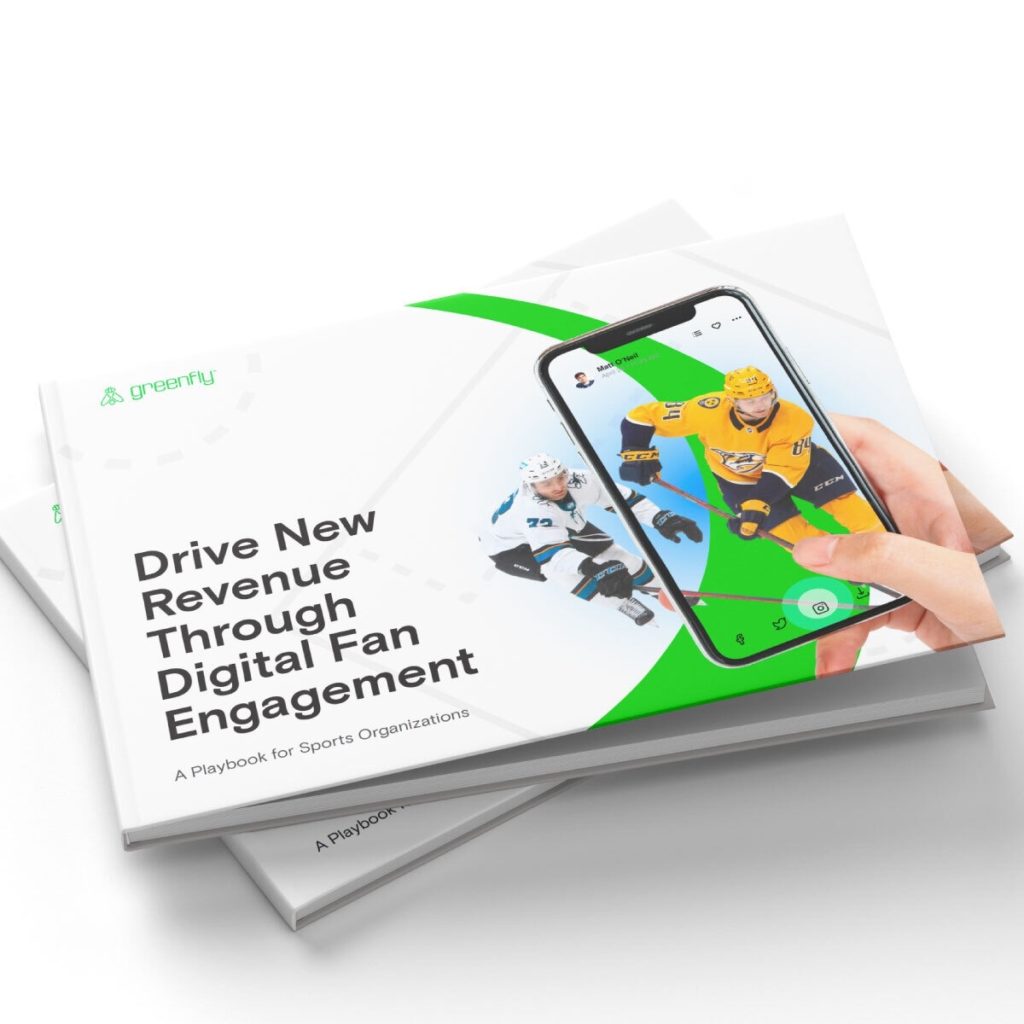 Increase Reach, Increase Revenue
Learn about innovative ways sports teams and leagues can boost fan engagement and increase revenue at the same time with digital media.
Athletes Are Driving Sponsorship Value and Revenue
The marketers discussed that sports teams are keenly interested in this reciprocal relationship. They're ensuring their team content gets out to athletes' social feeds to bolster the team, athlete and sponsor partners.
Athletes once had only their own content or brand content to support their personal brand endorsements. Now, they have team content, which also drives team sponsorships. In this way, team sponsorship has become a form of athlete sponsorship. Both are increasing revenue for sports properties and value for their partners.
One of the executives cited two recent studies around this idea. Harvard Business School published a recent case study on Paris Saint-Germain. They interviewed the CMO of PSG's sponsor Accor who said that their biggest surprise and impact was around players sharing content featuring their logo on their training and game shirts*. And a Sportico study looked at Cristiano Ronaldo when he was on Juventus, which is an Adidas team. Ronaldo was a Nike athlete. They analyzed his social media feed and found that Adidas was one of the biggest beneficiaries of that feed. That's because they were the team sponsor, and he was sharing team content.
As there continues to be a splintering of media and consumer media diets, a participant pointed out that content has become more targeted from algorithms. As a result, communications have moved from events to teams to athletes. And they've focused on people at a more micro level. Thus, sports organizations are looking for athletes to carry brand partner messages forward in a much more concentrated way.
Sponsorship revenue continues to increase often faster than media rights to an event. And there is often tension between different stakeholders and revenue streams. Rights holders get back into the driving seat when they pair athletes with content to amplify distribution and tell their stories to new audiences. In this way, the rights holders can better monetize and realize the value of their digital media libraries.
Female Athletes Are Rising as Brands
The executives also examined the incredible potential of female athletes as storytellers and developing their personal brands on social media.
A bias exists that women's sports aren't as good as more established male sports. And while female athletes haven't achieved the level of stardom as male athletes in the major leagues, they're often more well known than the team or club they represent.
Consequently, women's sports leagues and teams have had to approach things differently. They've been educating fans and sponsors more these days about their programs and brands. One key to developing partner relationships has been developing players' personalities and connecting with who they are authentically off the field. Interestingly, properties have found their female players see more engagement when they're not talking about sports.
One marketer mentioned a sponsor who wanted more ambassadors. They created a social account targeted toward women athletes. This account ultimately garnered the highest engagement rate of their brand's accounts. And agencies are having success finding women more endorsement deals, as some of the largest gains on social media have been from female players. Another executive noted that their organization has more engagement on women's team social channels than the men's team channels. This is the case even though the men's team has more followers.
All of the participants agreed that women's sports are a great emerging market. Their content is becoming a more important sponsorship component, as more eyeballs are looking at them. Moreover, brands are always looking for more people and people who will buy products endorsed by athletes, so their attention is also piqued.
For more insights into athletes as storytellers and brand marketing partners, check out SportsPro's recent 50 Most Marketable Athletes List. Or get our Greenfly guide to boosting sports revenue with athletes and digital media.
*Sources: "Harvard Business School Releases Case Study Exploring the Global Growth of Paris Saint-Germain." EN.PSG.FR, July 29, 2020, Elberse, A., and Moreno Vicente, D. (July 10, 2020). Paris Saint-Germain: Building One of the World's Top Sports Brands. 12 HBS No. 9-521-006. Boston, MA: Harvard Business School Publishing.