There are many opportunities for brands to work with sports properties today. Digital sponsorship activation is what sports sponsors want to see as a core part of their programs. They're looking first for more digital fan engagement and digital activation from clubs and teams (and any endorsement by athletes). These activities positively influence the fans who support them.
But delivering digital sponsor activation can be challenging for the sponsorship and digital marketing teams as they work together to activate and measure sponsor success across channels and accounts.
Sports leagues, teams and associations — along with their sponsors — are changing their approaches. They know that digital media is reaching global audiences in a much more powerful, interactive and pervasive way than TV broadcast or experiential, in-venue programs.
Digital Media Propels Fans and Brands
In fact, the exposure that corporate partners in sports receive from social media posts now delivers more impressions than television. And the future of driving fan reach looks incredible. Researchers predict the number of people using social media will reach 4.41 billion people in 2025. But sports properties are far from maximizing the potential of their digital media activation with sponsors. And it's a critical time to start.
The last few years have created a dramatic shift in consumer behavior. Fans have had few or no opportunities to attend live games in stadiums and arenas. Digital has become the primary channel for communication and engagement. Global fans haven't stopped with their desire to support their favorite teams. They've found new ways to engage and stay on top of the latest game, best play and athlete milestones. This activity has shifted corporate sponsors to look for digital activation first and experiential activation second.
However, sports teams and leagues have found it particularly challenging to demonstrate the value and return on investment (ROI) on the digital offerings and digital activation they are providing to sponsors. At the same time, sponsoring brands have re-evaluated their partnership deals. Their results have not been matching expectations with the reduction of experiential activations. Not surprisingly, sports sponsor revenues dropped significantly last season. Properties need to make up for lost time and money with innovative thinking.
The good news is that sports organizations everywhere are sitting on mountains of their own digital media they can activate today to support their objectives. These valuable assets are the ticket to generating more revenue and delivering more daily value to partners. This short-form, non-live media is now as critical to prosperity as any live game content.
Digital Media Breaks Through Where Traditional Media Can't
Of course brands expect to see a positive ROI from their sports relationships and sponsorships. They want access to the audiences sports properties are attracting. They're looking to increase brand awareness, build traffic and deeper engagement, or drive activation and sales for a specific product or campaign with these consumers. And they may seek to do all of these things locally, nationally or globally. Traditionally, sports venues and living rooms were the places to make this happen.
In our digital-first world, however, connection points have shifted.
Truly engaging with consumers to meet these goals through a dynamic stadium display or TV ad has become more difficult for marketers. A fan may never attend a game in person. Many have stopped watching full live games on linear television. But millions of fans, particularly Gen Z ones, are engaging heavily on social channels. They're consuming photos, videos and game highlights from their favorite teams, leagues, and athletes. Especially the athletes — fans most want to hear from them.
Sports properties generate this digital media every game day and practice, year in and year out. And it's content that puts sponsor logos and marks front and center. That's true whether they're on a jersey or background billboard or in a promotion. Millions of people get access to such media in real time on social and digital platforms now. As a result, sponsors have an immediate chance to extend brand awareness and promote their products and services. Moreover, they become more willing to invest in future digital media activation opportunities to meet their goals.
For sports organizations, it makes fiscal sense to prioritize social media posts featuring brand partners and created or shared by the athletes that fans adore. This content is on the frontline of fan engagement and activation. (download this 'menu' for specific ideas and examples on boosting sponsor value through athletes. Sports media stops thumbs in social feeds. This makes partners eager to borrow some of that attention and pay more for the benefits that digital media activation provides.
Sponsor Success Story: Paris Saint-Germain
Paris Saint-Germain's (PSG) management understands the power of equipping prominent athletes with valuable digital media for sponsorship opportunities. According to a recent case study by Harvard Business Review*, PSG grew its social media followers from half a million to approximately 81 million between 2011 and 2020.
Sponsors have also benefited. For instance, Chief Marketing Officer Steven Taylor of Accor (PSG's Shirt Sponsor) said that his company has enjoyed a five-fold return on investment from their partnership with the football club.
This boost has been driven by the massive orbit of social media star athletes like Neymar Jr. (163 million Instagram followers). It promises to grow further with club additions like Leo Messi (277 million Instagram followers). The follower counts for these two players alone dwarf the entire French population (67 million)! Every time they share posts wearing their PSG shirts — with Accor emblazoned front-and-center — the players reach millions of fans. They take sponsor Accor along for the ride.
Greenfly's mobile app helps PSG source, manage and distribute content to reach the right audience fast. For example, photographer-captured photos and videos during matches and training are routed automatically into individual player galleries. PSG players get that content — featuring them and their sponsored jerseys — immediately from the app. The athletes leave the playing field to the cheers of thousands of in-stadium fans. And they share those electrifying moments in real time with hundreds of millions of global followers.
Digital Media Delivers More Value to Partners
If a team, league or association continuously supplies athletes with digital media, sponsorship opportunities are quick to follow. Sponsors benefit from this activity in two distinct ways:
1. When the sponsor's logo appears in photos or videos that players share with fans, each athlete boosts measurable sponsor impressions and advertising equity.
This value goes far beyond transactional posts 'presented by' a sponsor. It's actually an implicit endorsement of the sponsor by the athlete, which is so much more powerful than an ad. Athletes are some of the biggest influencers on (and off) social media. They can get paid tens or hundreds of thousands of dollars per sponsored post. Yet, they're sharing this content for free because it benefits them.
When teams measure this increased exposure for sponsors, as in SportsPro's 50 Most Marketable Athletes 2021 report, they've found that they're providing 10x to 100x more exposure than expected. We've seen teams increase their sponsor revenue by 100% after a single season. That's due to the incredible unmeasured value they provided through athlete sharing.
2. When a team already has a system to automate non-live media distribution to players, they can also create and distribute media assets specifically to sponsors.
Sponsors armed with this content can extract more value from the sponsorship. They're able to use those assets for their own promotions, brand-building and digital activation on their digital and social channels, traditional TV or outdoor advertising channels.
When sponsors can use this IP without additional licensing fees or production costs, and it comes to them quickly and easily, they love to use it for their own promotions. And put their own advertising budget behind it. This activity gives teams and leagues even more visibility in non-sports channels.
But here's the challenge: distributing purpose-created digital media to athletes and sponsors so it's available whenever they need it. Yet it can be the key hurdle to successfully increasing sponsor value this year and increasing sponsor revenue next year.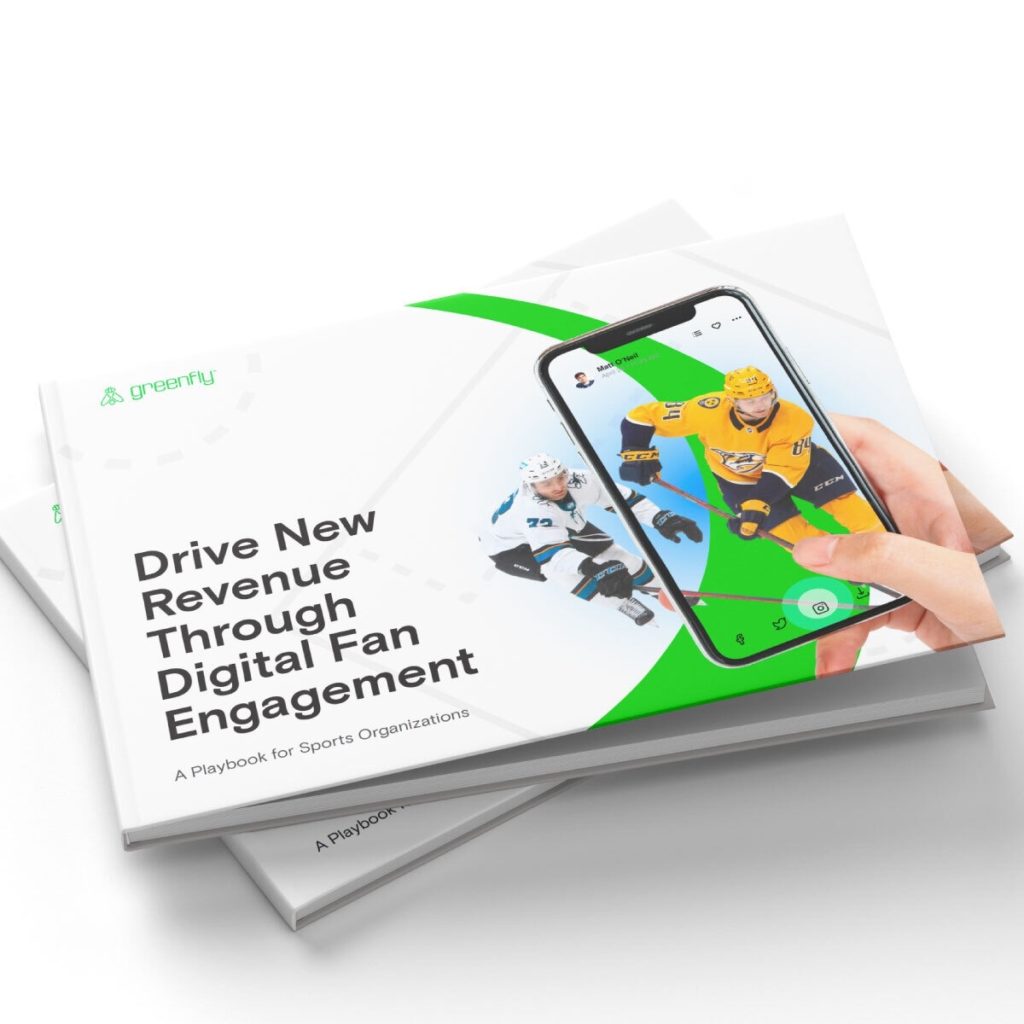 Drive New Revenue With Digital Media
Learn about innovative ways sports teams and leagues can engage fans and build sponsor revenue with digital media.
Collecting and Delivering Short-Form Digital Assets Is No Small Feat
Sponsors and athletes who are getting digital media from sports organizations to promote on social media want the process to be quick and easy. But collecting, curating and moving large volumes of digital media, such as branded photos and videos, to different sponsor partners and players can be overwhelming. Particularly for small digital staffs. And especially on game day, when this media drives peak fan interest.
Without the capability to do this efficiently, sports teams and leagues aren't in the best position to maximize revenue for themselves. And they aren't in the ideal spot to build value for the brand partners that support them.
Getting prompt access to branded content from sports organizations is a major obstacle for partners and players alike. When properties can solve this problem, sponsors will invest more in them.
Transforming Digital Media Flow Reshapes Sponsor Revenue Potential
To best support their digital activation for sponsors, sports properties are using centralized digital media flow management software. This technology enables organizations to automate asset collection, classification, curation and distribution. Manual processes cannot scale digital media for maximum impact to audiences and partners on game day. With these improved efficiencies, sponsors get more value for their partnerships. And they're more likely to expand their relationships in the seasons to come.
Greenfly's software platform helps sports properties by streamlining digital media flow to athletes and partners. Through intelligent routing, Greenfly automates the capture, curation and prompt distribution of content while games are in progress. Athletes don't have to wait for a game to end to get that kind of media. Sports leagues, teams and sponsors can use that content to connect with fans on digital and social channels while live events are still happening. They can also build value by empowering their partners to promote the content more often on their own marketing channels.
The end result: Sports sponsors get the colloquial "more bang for their buck." Sports organizations get an opportunity to seal more sponsorship deals and generate more bucks.
Get Started Today: Drive More Digital Media Activation for Corporate Partners
Digital media is fast becoming a centerpiece of sports sponsorships. It easily builds revenue and return on sponsor investment and helps sports properties reach larger and more diverse audiences. Sports teams, leagues and associations can generate massive revenue within a short time by managing digital content more effectively. Sports sponsors are always willing to invest more if they can meet their specific goals and get value for their money. 
Talk to a Greenfly expert – we're here to help. If your goal is to grow your sports revenue next season, you need to rethink digital activation. Learn more about managing your digital assets to create brand awareness, increase your fanbase, and share content with partners continuously.
*Sources: "Harvard Business School Releases Case Study Exploring the Global Growth of Paris Saint-Germain." EN.PSG.FR, July 29, 2020, Elberse, A., and Moreno Vicente, D. (July 10, 2020). Paris Saint-Germain: Building One of the World's Top Sports Brands. 12 HBS No. 9-521-006. Boston, MA: Harvard Business School Publishing.