We're in an era when social media and digital content is becoming central to the sports experience. Audiences are coming back to live events after months at home. And sports properties everywhere are determining how to transform and meet the preferences and demands of digital fans. Sports marketers are finding new ways to increase ticket sales with social media and get fans back in seats.
Leading sports organizations know that supplying athletes with a continuous stream of digital photos and videos to publish on their social media accounts is a winning strategy to support revenue growth. This simple idea drives more fan loyalty and engagement than paid ads ever could.
Athlete-driven content distribution is the magic ingredient that spurs attendance and sales of jerseys and other merchandise for cheering favorite teams on game day.
Today's Ticket Booth Starts With Social Media
Forward-looking sports organizations are thinking differently about ticket and merchandise sales as they emerge from the pandemic period. They're thinking about social media first, not last. Traditional marketing programs are secondary to the free organic promotion that social media offers. Their sponsor partnerships to build creative sales promotions might have also become digital-first. They're acknowledging that the younger audiences they need to reach are gathering more and more on social media to consume sports content. That's where they keep up with their favorite athletes and connect with fellow supporters. It's become the central place for brands to create a two-way fan dialogue, stir excitement, and gain their attention and activation.
Sports leaders are turning to their stockpiles of digital media that grow every game day and year round to drive their new sales strategies. They know these valuable photos, videos and other digital assets, shared by athletes on social media, set their brand apart and move audiences to purchase.
This short-form, non-live media is now a core part of the sports experience as much as any long-form, live match content.
Athletes + Digital Media = Your Best Sales Drivers
Sharing compelling digital media with athletes, featuring them, is a powerful sales lever. This activity uses athletes' organic influencer power to promote themselves, their team and their sport. Their continual endorsement is also key for growing ticket and merchandise sales. Some teams, like Angel City FC, are even rewarding players with a percentage of ticket sales, further encouraging them to help get fans in seats.
There's no more valuable content for promotions than when athletes capture themselves in selfie photos and raw videos. And the media's power multiplies when they're wearing team insignia or standing on their home field or court to get fans excited about upcoming play.
It may be surprising to learn that athletes want to create and share their team's content for these purposes. But it shouldn't be. They realize their lucrative careers thrive with support from their fans and teams, showcased through game play, promotions and merchandise. Being elite competitors, they want their club to be the best, to top the charts in popularity and success.
And the players are building their own brands, too. They want the advantages of more loyal fans and sold-out venues. Their flourishing teams, leagues, and sport will continue to boost the contract and endorsement opportunities in front of them.
The most effective sports ambassadors are athletes, when they share their genuine excitement about major events, milestones and even new merchandise on social media. For fans, this is one of the most unique and enticing perks of the 21st-century sports experience.
Athlete-created content promises to keep delivering deep fan connections to drive more of their loyalty and purchases.
The Upside of Authenticity in Social Media
Sports brands can use athlete-shared digital media to engage fans and increase ticket sales and merchandise sales in many ways.
For example, player theme night sales campaigns can include personal video greetings to fans from that player. Or they can promote greetings from the fans themselves. The lead-up to milestone events can feature content showcasing past player or team highlights. Teams can tease an athlete's record-breaking achievement. They can provide media highlighting them and promoting their numbered jerseys and venue tickets available for the historic match. In addition, they can reward season ticket holders with exclusive access to behind-the-scenes media. And athletes can unveil new merchandise as they share stories or memories with their followers. The opportunities are vast.
Combining ticket and merchandise sales campaigns with digital media brings multiple benefits:
More digital assets create more year-round promotional opportunities
Assets shared across digital and social platforms amplify organic audience reach
Exclusive content helps attract and keep fans
Authentic media saves staff time and lowers costs from produced media
This last point is key. Content created on phones for social media resonates more than slick studio or agency-produced ads. Greenfly customers have tested the differences in media. In our joint research, we've found that authentic, raw personal video outperforms longer-form and agency-produced video anywhere from 40% to 120%. Results will vary, but that means more impressions, more engagements, more sharing and more impact for the brand.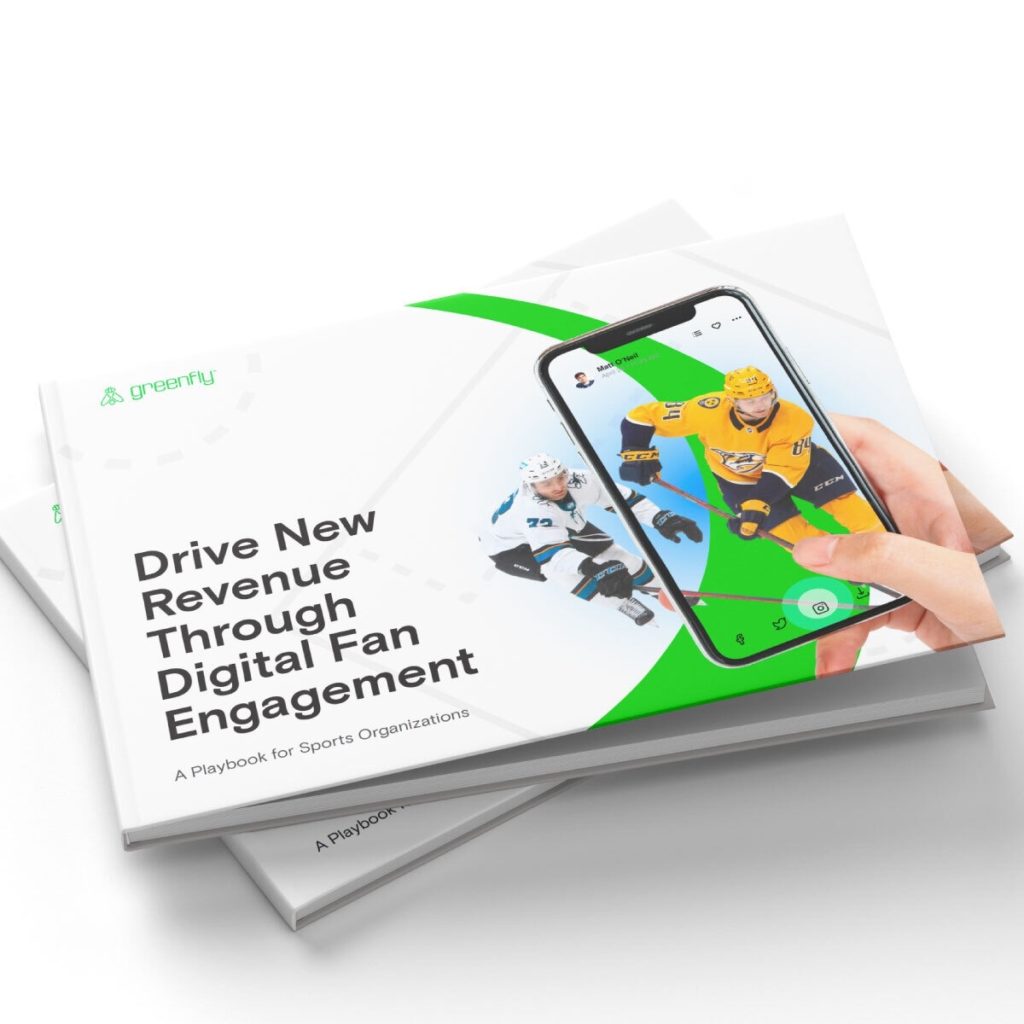 Digital Media Drives New Sports Revenue
Download this free e-book to discover innovative ways sports properties are engaging fans and increasing revenue using digital media.
Managing and Delivering Digital Media Requires an Advanced Approach
As noted, athletes are the best sports advocates. They can build stronger fan connections to extend their team and league brands. In this way, they can impact revenue and drive value as incredible evangelists for the properties they represent.
But these busy ambassadors don't have time to waste in getting digital media from their teams and leagues. And they have even less time to think about it. They need the process to be fast and uncomplicated. Given this challenge, capturing, organizing and disseminating large troves of digital photos and videos to different groups manually has no place in today's fast-paced sports operations.
Getting branded content delivered to the right people quickly — or collecting content from them — is a common stumbling block to success. When sports brands can surmount it, they'll be in a strong position to boost ticket and merchandise sales with the fans clamoring for this media.
Rethinking Digital Media Opens up Ticket Sales Revenue Potential
Sports properties are turning to advanced technology. With it, they can shorten the turnaround time from capturing digital photos and videos to getting them in front of their legions of fans. All to increase ticket sales, as well as merchandise sales.
Greenfly's software platform streamlines digital media flow for many of the leading sports organizations globally. Through intelligent routing, Greenfly automates the collection, curation and distribution of content to social and digital platforms. Leagues, teams and athletes use that media to engage with fans and generate excitement for future games and products.
With more targeted assets available for use, sports organizations can stay one step ahead of audience demand. And they can extend the life of sales campaigns by cycling in fresh creative and offers, even during a live event. The opportunities are many for those thinking strategically about how digital media can help increase sales for tickets and merchandise.
Ticket Sales Success Story: All Elite Wrestling
All Elite Wrestling (AEW) creates deeper fan bonds and boosts demand and revenue by putting its world-class professional wrestling talent out front.
This strategy has helped the league drive awareness and tune-in and increase ticket sales and merchandise sales for its live in-person events.
With Greenfly, the AEW digital team distributes curated galleries of promotional photos, videos and graphics. They give them to nearly 100 wrestlers, or send them individual media assets, with suggested captions to post to their social media accounts. This content includes links to purchase tickets or merchandise, reinforced by the wrestlers' excitement about upcoming matches. The team also requests original content from them around specific promotional campaigns they have planned.
Both established and emerging wrestlers have expanded their personal brands and followings alongside this activity supporting the league's brand. It's a continuous cycle that expands the global wrestling fan community and AEW's business.
With a massive amount of promotional content now at their fingertips, AEW garnered over 1,000 talent shares of promotional ticket sales social content in the last year. And the league generated over nine million impressions on this content, which included 'live event' or 'buy tickets' messaging.
Increase Ticket and Merchandise Sales Starting Today
Digital media offers an easy way for sports organizations to reshape their sales strategies for digital-first fans — in collaboration with their best brand advocates.
Contact us today to learn more about how you can connect with fans and increase ticket sales in sports with the digital media you already have in hand.