TikTok has already become a major player in social media well before COVID-19 forced everyone to stay at home and TikTok in isolation. TikTok for sports organizations is still taking off, with plenty of potential in sight for sports marketers and social media teams.
As TikTok becomes increasingly important to all sports properties, it's a perfect platform for those focused on attracting, influencing and engaging younger audiences. Research firm Morning Consult reported that 74% of all social media users aged 13-21 in the U.S. use the platform. These young users are looking for entertainment and connections, and unique content from sports teams and leagues is what they're looking for.
Growth can happen quickly on TikTok for sports brands that hit the right notes. For instance, the NHL increased their followers 42% (+161,000) in just 36 hours thanks to a single video going viral. There's no magic formula for replicating such success, but there are several levers you can pull to help your organization develop a valuable and long lasting TikTok presence. Better still, you don't need to be as talented or clever as TikTok luminaries like Zach King or SpencerX.
We've provided nine different strategies (and quite a few real examples) that sports organizations, teams, and leagues have used to build a brand presence on TikTok and engage with this younger Gen Z demographic.
Repurpose Player Content
We know from the increase in posts on TikTok that athletes are increasing their social media activity overall, and seem to be more willing to share slices of their personal lives. A league or team can easily adapt some of this content from athletes and repurpose it for their own TikTok channel. Teams can add a quick edit or caption to this repurposed player content to create something fun for fans on TikTok.
The reason that works is that this content is authentic—it's unvarnished, unscripted, and was created by a person with whom your fans want to create an intimate connection. You're branding it and putting your stamp of approval on it, delivering it to a different audience than follows that one athlete.
Sports brands can manage this player content collection easily with Greenfly's digital media flow platform for sports teams and leagues. They can also deliver content directly to athletes via the Greenfly mobile app, including galleries of raw assets from which the athletes can build new TikTok content. The players can share that content directly to TikTok and other social networks with just a few taps in the app.
Empower Athletes To Create More Content
Many athletes are using this time to grow their personal TikTok brand. Philadelphia 76ers player Matisse Thybulle has seemingly mastered the platform overnight, with creative and original content.
There are many more examples of athletes using video clips or photos from games and training to delight fans on TikTok. Pittsburgh Steelers wide receiver Juju Smith-Schuster, in the example below, simply accesses sideline highlights from the past season for TikTok success. Meanwhile, Houston Astros infielder Alex Bregman earned over 100,000 views from nothing more than a single swing in the batting cage.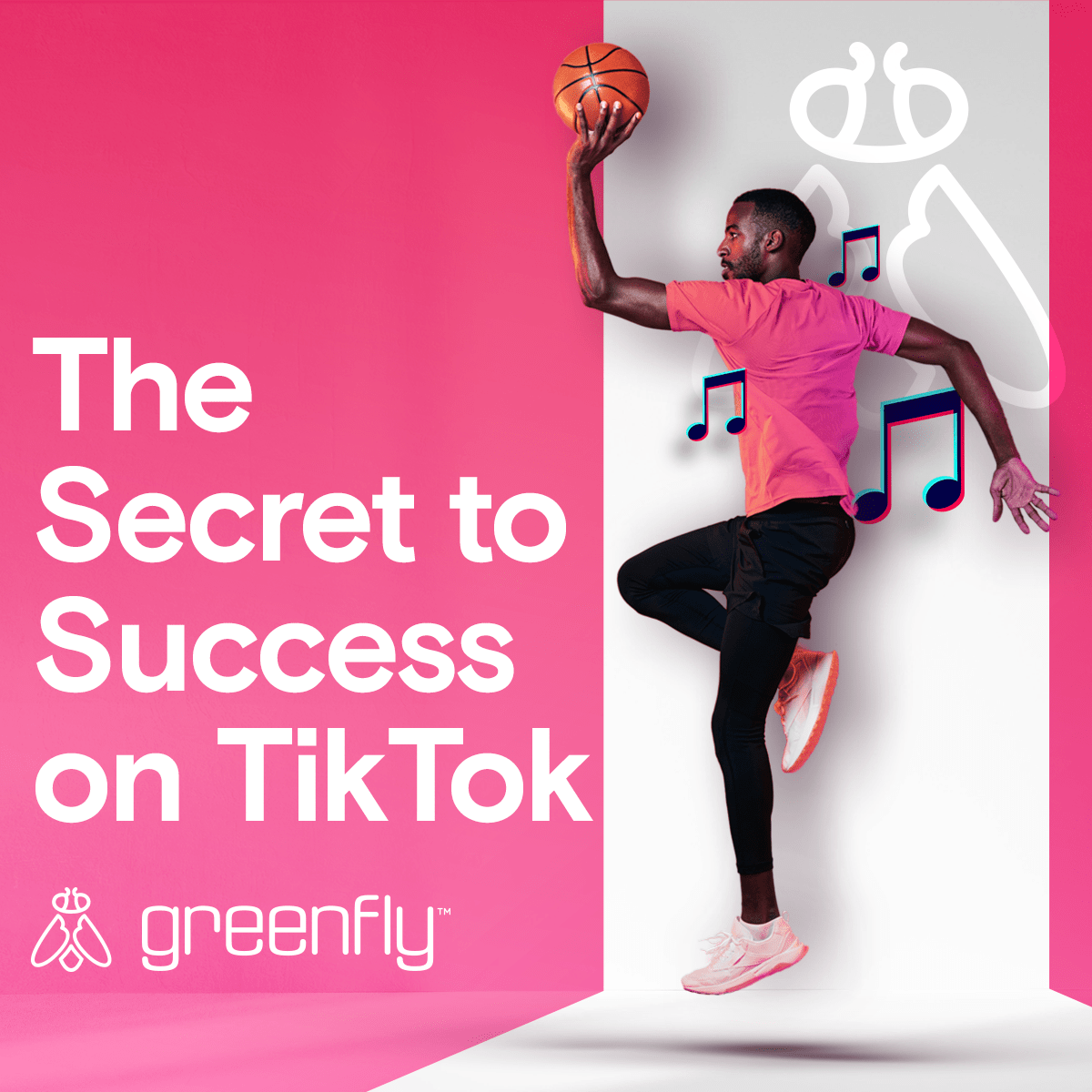 Get the Greenfly Guide to TikTok
Download our guide to TikTok Success to get insights into strategy and fan engagement best practices on this fast-rising social platform.
Repurpose Archived Content
Teams and leagues are sitting on TikTok treasure—it's in their archives. By scanning through some of the best-performing historical events or games, and adding a soundtrack or effect, that archive can become great content for TikTok.
The NHL enjoyed that aforementioned 42% growth in a day and a half after they shared a moment where Winnipeg Jets forward Nikolaj Ehlers interacted with a fan during warm-ups (example below).
Meanwhile, the Premier Lacrosse League shared one of their mic'd up segments with great fanfare, and the Orlando Magic went slow-mo with a game clip that fans enjoyed more than 30,000 times. The Magic even added their own original sound before uploading to TikTok, a tactic which helped them avoid any issues around music rights (TikTok does have a royalty-free library of music you can use, also).
Post Staff-Created Content
Sports organizations can help their staff get an assist with content for TikTok, too. Particularly with the success of dancing on the platform, cheerleaders and dance teams can add value by filming all manners of dances, cheers and fan motivation. They could perform or teach a popular dance, or show off a routine. Even something as simple as a daily task from the equipment manager can become a hit on TikTok when the team takes that content and adds the right music to it. The Vegas Golden Knights, for example, scored the simple act of sharpening skates. With a content exchange solution like Greenfly, getting content like this from team staff is easy, even during the COVID-19 quarantine.
Mobilize the Mascots
TikTok is tailor-made for mascots. Our favorite costumed entertainers are used to performing for a crowd, and now they have the chance to perform for a virtual crowd of potentially millions. We previously wrote about the success of mascots on TikTok and lessons brands could take from them, and the furry figureheads have only continued to succeed on TikTok. Gritty, the renowned mascot of the Philadelphia Flyers, has made TikTok his own to delight fans.
Activate Media Talent
Sports media organizations, including media publications and TV networks, generally employ some staff that are used for live performance and commentary, whether that's on TV, radio, social media, or all of the above. TV network talent is particularly suited to connect with fans—just as much as the athletes they report on and interview every day. They're stars, too.
Sports media can utilize their talent to complete one of the many 'challenges' that populate the platform, such as Rogers Sportsnet does, or enlist a reporter to be the face of TikTok for the publication, like the Washington Post. The ability to put talent to work for TikTok can be a valuable advantage for building a large audience.
Put Out Powerful Messages
Given the young demographic of TikTok users, the platform can be used to convey important information that this group cares about. It doesn't take a ton of filters, edits or effects to deliver such messages, either. This is especially true when athletes and talent deliver those messages—they have a high degree of trust and with united content, can really create intimate and engaging connections.
Sometimes all you need is to ask for a video of a player pointing. The team's creative group can turn this video into a PSA, as the Los Angeles Chargers did in the example below. The NBA also kept it simple, having players Dwight Powell and Luka Doncic stress the importance of social distancing.
Leverage UGC
An impressive 34% of TikTok users produce content themselves every day. There is no shortage of willing creators on the platform, which means sharing user-generated content (UGC) can be a great TikTok strategy. Whether soliciting specific content directly from creators or keeping an eye out for content on other social platforms, plenty of sports brands are succeeding with this strategy. The feeds for ESPN and House of Highlights, for example, are filled almost entirely with UGC. The Portland Trail Blazers also found themselves a gem (see the example below), and the NBA deserves a standing ovation for the duet displays they've executed with fans on TikTok.
Know That Good Content Is Always Good
As much as many creators want to use the filters, the challenges, the music, and the effects on TikTok, sometimes it's best to not overthink it or overdo it when you're sitting on content that is already solid gold.
Whether it's funny, incredible, tear-inducing, or awe-inspiring, good content plays on any platform, and TikTok is no exception. A couple of fine examples below from Major League Baseball and NASCAR prove this point.
For years, it seemed no social media challengers could penetrate the stranglehold that Facebook, Twitter, Instagram, YouTube, and most recently, Snapchat, had on social. But then came TikTok, and with its growth only expected to continue, it seems likely that the platform will have staying power.
It's time that all sports brands recognize that TikTok offers a valuable opportunity to reach a difficult-to-access audience of younger (and more female fans). The era in which leagues, teams, mascots, and athletes embrace TikTok has arrived.
We hope the examples and tips above have you feeling inspired and ready to take on TikTok!
How Greenfly Can Help Your TikTok Goals
Looking for a way to get easy content to and from players, staff, fans and mascots on TikTok? Are your athletes looking to access some of their own game highlights to post on their own profiles? Good news: Greenfly now works directly with TikTok for easy and seamless sharing. Learn more about Greenfly for sports or book a meeting for a look at the platform!