There is no magic formula for TikTok this year for sports marketers. Nope, sorry.
Good content is always good content. But TikTok is so different from other social platforms, sometimes great strategies are counterintuitive. There are so many viable methods to connect with young sports fans on TikTok, even with limited sports marketing and social media resources.
TikTok has become a top social platform for Gen Z and a top sports marketing priority for leagues and teams. This wildly popular, creator-driven social video network enables your sports property to leverage your biggest influencers — your athletes — and content into audience conversations in a unique and authentic way.
You know sports fans love authentic content, and TikTok's users only want to connect with real people, not brands. This combination is one of the keys to TikTok success. We've outlined a few key strategies like this in the Secret to TikTok Success playbook.
Another playbook tip: The platform's For Your Page (FYP) recommendation algorithm helps content find its audience. TikTok trends and challenges shouldn't be completely ignored, but they're less important than before.
Most sports leagues and teams seek the biggest target audience with the most efficient use of resources. And they aim to align TikTok with their business goals. If that's your objective, you'll want to appeal to general themes of engaging social video content. With our playbook, you can learn from other sports team and league accounts seeing TikTok sports marketing success.
We scrolled our FYP on TikTok (not as long as your average teenager, most likely) and found five examples from sports accounts that have earned a lot of plays and engagement. These are just a sample of things that worked — they don't represent an exhaustive list of TikTok tactics and trends. But every success on TikTok carries ideas to adopt and adapt.
Check out the examples below. And get our Greenfly playbook, The Secret to Success on TikTok for even more insights into strategy and fan engagement best practices on the platform captivating global Gen Z sports fans.
Athlete Reactions and Emotional Moments Can Drive TikTok Success
When there's an incredible shot or catch in the game, some of the best content for TikTok gets captured by turning the camera away from the play. It seems counterintuitive, right? But when focusing the lens on the player reactions in the moment or grabbing a shot of the elation amidst a dogpile — that's the good stuff for TikTok.
The example below from English Premier League club Tottenham Hotspur captures the unbridled joy of star player Son Heung-min making eye contact with the camera. This TikTok is among Tottenham's most popular. Not every team can boast a global superstar like the South Korean Son. But you can highlight those looks and feels of pure emotion after the big play. Just focus the camera on the faces.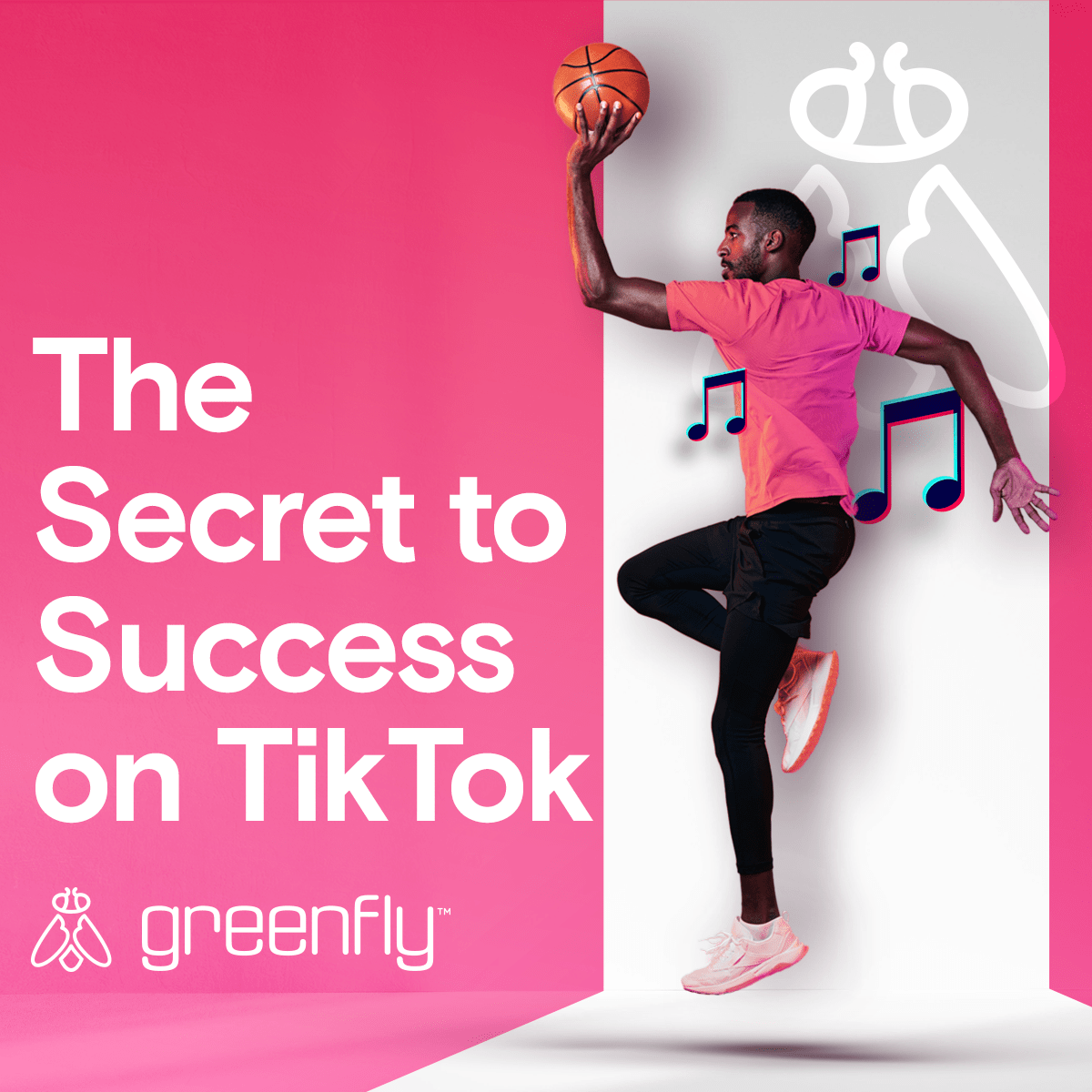 Get the Greenfly Guide to TikTok
Expert insights on sports fan engagement strategy and best practices on Gen Z's favorite social platform.
Fan-Generated Content Can Be TikTok Sports Marketing Gold
Athlete reactions are awesome, but the unbridled joy sports fans display also makes for incredible TikToks that resonate with the platform's global audience. Users don't need to understand the sport or speak the same language to appreciate a fan running around looking for somebody to hug after their favorite team wins.
User-generated content (UGC) plays across every social network, and TikTok is no exception. Some teams use technology to collect UGC from fans and get legal clearance to use it, too. But no matter how teams get their hands on UGC, it's often a cheat code for engagement.
Just check out this super-short video posted by the Tennessee Titans (NFL), which also incorporated a surprising stitch. Who knows where that fan is running (they probably don't know themselves). But anyone can stop the TikTok scroll to appreciate the raw joy sports can deliver.
The Content Archive Has Hidden Treasures for Sports Teams on TikTok
If users haven't seen it, it's new to them. And for most fans, there's no such thing as too many views of an incredible play or player video. Unless the team just came into existence in the last few years, the archive is chock full of viral TikTok posts just waiting to see the light of day.
Think about the most eye-popping plays on the field or court, the most viral posts of the social media era, or the historic moments from the team's history. There are incredible stories to tell, retell and share with TikTok users worldwide. Many of these users will have never seen or heard any of it.
Check out the illustrative example from Brazilian club Flamengo (full name: Clube de Regatas do Flamengo), which has been around since 1895 and playing football (soccer for the U.S. readers) since 1912. They can serve up TikToks for days highlighting some of the incredible plays and moments captured in their history. Dip into the archive and share or reshare the 'best of' clips; it will likely be brand new for many users on TikTok.
Fun, Scalable 'Challenges' With Players Can Thrive on TikTok
Teams know that fans love when players display their personalities. When they let their guard down a bit, they can have fun — even at their own expense sometimes. The ubiquitous 'challenges' that comprised so much of TikTok early on are not quite as omnipresent. However, sports organizations can create their own original challenges for players to try. If players have trouble completing the challenge and can laugh at themselves, even better.
There are many examples of this TikTok tactic (and on platforms beyond TikTok). That's true whether it's football players trying a trick shot or, like the example below, testing players' artistic abilities by having them draw the team logo. The 'draw the logo' challenge is a popular play for many sports teams and leagues. Nobody expects players to be amazing artists (most of them are not), and the challenge is low stakes. So players can 'fail' and still have fun doing it. Also, it's easily scalable.
Many teams will have players do these challenges as part of media day or another day on which they can record several players in one fell swoop. The team can then distribute those videos throughout the season. The New Jersey Devils illustrate an example with their own draw the logo challenge series. This effort delivers consistent results on TikTok and endears fans to players.
The Videoboard Is a Valuable Source of Terrific TikTok Content
The DanceCam, FlexCam, KissCam, and other video board features with fans, even those not ending in 'cam,' are all consistent sources of joy for fans at the games. But these segments can also have new, exponentially valuable lives on TikTok. Some of the most viral content in sports social media comes from the videoboards at arenas or stadiums. Fans seize the spotlight, cute kids go ham, and moments of hilarity and joy often ensue. It goes beyond the videoboard, too, with game broadcasts often capturing fans doing funny things in the stands.
The Los Angeles Chargers TikTok post below shows the power of the videoboard content. This little dude went all out, creating a viral moment perfect for TikTok (or any platform). Be on the lookout for these magic moments. They're fun for fans of any age, in any country, and on any app.
The Need for Video in TikTok Sports Marketing
The challenge to find a consistent formula for success on TikTok continues as the platform evolves. But there are approaches to the platform that teams can tweak and adapt to make hits more often than not, even with scarce time and resources.
Importantly, few sports organizations or brand personalities can create every single post on their own. They need brand marks, product material, short-form videos and photos. These are core elements of the video stories you tell. Creators can quickly edit and post some of these directly or modify them further.
To deliver evergreen and new media to them easily, quickly and directly to their mobile phone, using the right software is key. It can streamline and automate the process of gathering, organizing and sharing this video content with them.
Greenfly efficiently delivers a stream of short-form media to dozens or hundreds of creators, ambassadors, athletes and influencers. Greenfly can deliver this content from live events or digital asset management systems straight to the mobile phones of these advocates. They can edit this media and share it directly to TikTok in seconds. To grow your TikTok influence, it pays to give advocates a steady and continuous supply of photos and images they can turn into great content.
Your collaborators and staff can spend more time creating TikTok treasures when content clips are readily accessible. And your team won't get derailed with constant emails and texts for more or specific content.
If you're looking for fresh inspiration or a place to start or advance your organization's TikTok sports marketing strategy, give us a shout.
We look forward to seeing your content on our For You Page in the future!