Many consider sports a form of universal language spoken between teams and fans. Undoubtedly, the passion for the game has brought people together for centuries. The COVID-19 pandemic threw a wrench into live sporting events and substantially impacted the sports and entertainment industries. Sports fans came together in the only way and place they could: on social media platforms.
Now that people are again gathering in person, sports brands are looking to renew interest, ensure full stadiums, and tap into those robust social fan communities.
Social media content has become integral in bringing fans back into seats. The power of using sports social media as a concrete marketing tool is indisputable. More focused than news stories, press conferences or TV ads, a solid social media strategy lets you more precisely target an audience and build a following.
Studies show that 3.6 billion users regularly interact on social media now, and that number is projected to reach 4.5 billion by 2025. The opportunities to expand fandom and engage audiences through sports social media and marketing are vast.
But sports marketing is evolving faster than ever. Many of the tactics that worked at the beginning of the pandemic have been replaced by others that are helping the sports industry meet the moment. Savvy sports organizations are creating a new marketing toolbox — with a focus on social networking sites and apps and an eye on key trends that will help cement fan relationships into the future.
Let's take a look.
What Is Sports Marketing Today?
You likely know that sports marketing relies on the importance of sports- and fitness-related content to effectively support a brand, team, league, franchise or event — using the power of the sports world fanbase to drive sales and interest in each game, and more.
You may not know that today, sports marketing tactics are more decidedly social than ever before. Now, sports marketing relies heavily on social media to connect with fans where they're consuming sports content — such as live games and highlights — and interacting with athletes and other supporters on sports social networking sites.
5 Trends in Sports Social Media and Sports Marketing
The end goal of any sports brand is not just to promote themselves via social media content but also to put fans in the stadium seats for every team game and keep them tuning in at home. To achieve those goals, they focus on the latest trends in sports social media strategy.
Let's examine what sports media trends are working: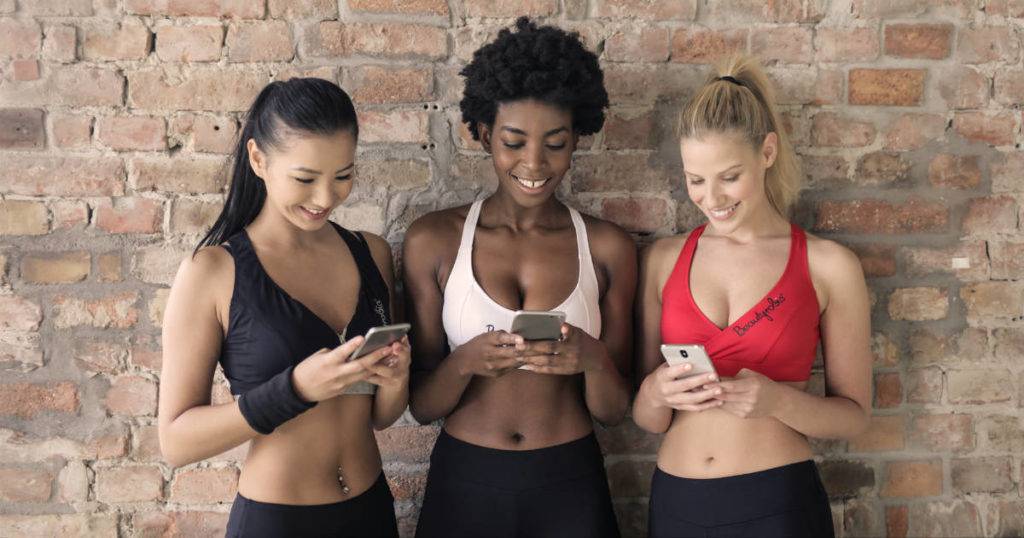 1. Explore Advocacy Marketing
Sports players on social media have a huge impact on fans. Most would concur that they carry a tremendous amount of power to sway and change the viewpoints of the sports community — a hallmark of advocacy marketing.
Athlete advocacy is a great opportunity for companies and teams. The opinions of brand advocates help not only form deep connections but also build trust. Their stories can support a brand to truly reach audiences without appearing to push.
Sports advocacy marketing typically harnesses star athletes and their followers on social platforms. Soccer players, NBA players and football players are just a few who regularly become strong brand advocates. They can readily connect with fans and explore new avenues to increase the popularity of their teams and leagues substantially as they grow their personal brands.
2. Foster Fan Rapport
It is imperative to build a rapport with followers and fans when using social media marketing. You can interact with fans directly using tools like Instagram Live and Facebook Live, answer questions off the cuff, and show a real desire to form online connections and assist the community.
This connection can even spur user-generated content (UGC) as an interactive way for fans to show their support and participate in key sports moments, which also drives engagement for other enthusiasts.
Moreover, supporters want a year-round "fix" with their sports team and favorite athletes. Studies have shown that 60% of fans want an engaging social experience with their team. And after interacting via social platforms, 55% of fans will end up purchasing tickets — which is why it's so important for a sports business to maintain contact with its community year round.
There is no such thing as an "off-season" when it comes to marketing for sports.
3. Offer Giveaways
Giveaways on social media have become a popular way to effectively boost brand awareness, achieve sales and create engagement. You can even use them to draw attention to important announcements.
Offer giveaways even when it's not during your sports season, but always have an objective when promoting a giveaway. Your fans want to win! So, the reward should showcase your brand in a positive light and promote even greater engagement.
Encourage fans to tag and share the promotion for even more chances to win, helping you reach a larger audience. Add three calls to action to put your post to the forefront, ensure you reach new followers, and maybe rank better in the newsfeed.
All this engagement will increase awareness and connection with your own sports brand and build value for your sponsors. At the same time, this gives your audience opportunities to show their support — creating a win-win-win situation for sports brands, sponsors and fans.
4. Experiment With Cross-Collaboration
If you want to reach new marketing channels, you'll need to expand past the boundaries of traditional marketing and seek content partnerships that will support you to keep fans engaged. This is true even if the stadiums are closed (as during the COVID-19 pandemic).
One memorable collaboration from May 2020? The Detroit Lions and Animal Crossing. This collaboration helped bring a positive spin to fears of a canceled NFL season that year. The Lions/Animal Crossing collab engaged and delighted fans in an unusually challenging offseason.
Provide versatile content in partnership with others to grow your brand. Look at videos, e-sports, podcasts and virtual games as a part of your future marketing strategy.
5. Focus on Generational Differences
A March 2022 survey found that each generation has a strong stake in sports. Here are the percentages of each generation who say they are either "avid" or "casual" sports fans:
64% of Baby Boomers
64% of Gen Z
65% of Gen X
70% of Millennials
Since excitement for sports spans all generations, you'll want to consider each generation's unique needs and interests when marketing your sports brand.
A few examples:
For fans who watch live sports, a 2021 survey found that Boomers are most likely to watch on TV (77%), compared to 57% of Gen X and just 35% of both Millennials and Gen Z. So, for example, marketing to Boomers online during live games may not get you the same traction as younger generations.
Since the pandemic began, 23% of Millennials reported feeling "much more connected" to the sports team they love most! Only 14% of Gen X, 10% of Gen Z, and 4% of Boomers feel that way. This data indicates that the tactics sports brands have been using to connect with fans since 2020 resonate with Millennials. But there's work to do to engage the younger and older generations.
Remember to keep generational differences in mind when considering your target audiences.
Top Sports Social Networking Sites for Sports Fans
If you're ready to launch a marketing campaign, then you'll want to go where the fans are. Let's look at some of the top sports social networking sites attracting sports enthusiasts now for tips to discover which one will best support your needs.
Any of the sites below are considered good social media channel choices for fan engagement,
1. Twitter
In many ways, Twitter has become the center of public discourse, including for sports topics. Sports fans rely on Twitter to engage with team news and highlights. A little bit of everything appears on the platform, from article summaries and halftime scores to play-by-play updates. Many athletes also maintain social media feeds on Twitter, where they frequently post stories to keep their fans updated.
Twitter hopes to continue giving sports fans the community they want so they don't venture to other social networks in the future.
2. Fancred
Fancred is a Boston-based sports social media option. They are focused on competing against Twitter by offering an interactive, mobile-based social network. They boast a 30% daily user rate, and that audience appears to be growing. 
3. LockerDome
Sports fans love engaging with other fans, and LockerDome allows them to share their passion. You'll find everything on the social media site, from Indian national cricket teams to NFL football. Also, the site has 1,500 professional athletes actively engaged, which helps to bring fans closer.
4. Favourit
Favourit is an Australian sports and social media platform that lets bettors and punters connect to learn about betting tips, bookies, stats and live feed scores, along with comparing posted odds. You can even earn prizes when you place picks and bets. In April, the social media and sports site raised $3.6 million.
5. Fanatix
Fanatix acts as a mobile-first video-sharing fansite. In the last year, the U.K.-based social media site experienced a surge of over a million monthly users.
6. Paddy Power
Paddy Power is an Irish-based social media option and the first real money sports betting app designed for Facebook. Anyone seeking to place effortless sporting bets is going to fall in love with this social media option.
7. Sportslobster
Sportslobster, known as the "one-stop-shop for sports fans," features leagues across 23 sports. The site's launch happened during a large event in Wembley Stadium, and it continues to grow by leaps and bounds with high-profile investors.
8. Kwarter
Kwarter provides a second-screen gamification platform where companies and corporate news broadcasters connect to create better live content offerings such as access to real-time sporting events. The scene is not what most classify as a social network but more of a startup-to-startup space with the ability for brands to engage viewers and offer rewards.
9. FanCru
A social media mobile app, FanCru gives all games their own social media feeds so that fans can truly step to the plate and represent the team, comment and gossip with their community, and cheer. Unfortunately, this is the last one on our list of the best sports social media accounts because it is not currently available to the American audience.
Sports Social Media: FAQ
Let's explore some common questions and tips when it comes to social media engagement and sports.
What social media platform is best for sports?
At this time, many would argue that Twitter still leads as the best social platform for sports. After all, 30 sports-related tweets are posted every second on Twitter. And there are over 24 million unique authors posting about sports on the platform! Virtually every team and athlete uses a Twitter account to regularly share personal stories and engage with their fans in the comments.
But platforms and fan consumption behaviors are constantly evolving, and it's important to know where your specific target audience spends the most time. They may be on Instagram, TikTok, Facebook, or somewhere else.
The best social media channels are ultimately the ones where YOUR fans and athletes are gathering. For instance, women are more likely than men to use TikTok. Those who make at least $75,000 per year are most likely to use YouTube, which is also the most commonly used social media platform for adults ages 30-49.
First, identify the demographics of your target audience: gender, age group, location, income, and more. Then, use that information to target the platforms that those ideal fans prefer.
Is social media good for sports and sports organizations?
Social marketing solidifies relationships with fans.
People want to engage with their favorite leagues, sports organizations and players. Social media engagement gives them an opportunity to reach out in real time and feel like they are involved. They want to believe their needs, viewpoints and presence matter.
Fans can also interact with each other and form long-term friendships due to their love of the sport.
This kind of engagement is great for the sports business, and that's exactly why we do what we do at Greenfly. With the Greenfly platform, leagues, teams, athletes and other sports brands can connect with the social audiences that matter most to them through the digital media they capture daily. We leverage the power of brand awareness, advocacy marketing and digital media automation to boost engagement and strengthen your brand.
Ultimately, we take the guesswork out of your social media strategy.
How do athletes use social media?
Today's athletes are on social media every day. They invest time and energy into their online presence, using social media to connect deeply with their fans and build their personal brands. Providing athletes with the ability to easily create or share digital media on platforms such as Instagram or TikTok lets them give fans a real-time glimpse into their lives on and off the field of play.
With a strong social presence, athletes use social media to become true marketing partners with their sports organizations. They can drive brand reach and make money for themselves and their team through endorsements, brand collaborations, merchandise sales and much more.
Takeaway
Social marketing with a social media center is no longer a luxury or rarity in sports. It's now a must-have for sports organizations and athletes to support greater engagement, reach more fans, and create year-round bonds outside of the game.
Social media remains about making connections and building a strong foundation. To lead in sports, you'll want to remain at the forefront of fans' minds and also have a solid relationship with your audiences.
Focus on the social platforms, apps and networking sites that attract the followers you want to reach. And keep an eye on the broader trends that can drive your sports marketing strategies. These are key components to a winning sports social media game plan.
Contact an expert to learn how Greenfly can help you build more brand awareness in sports!