User-generated content (UGC) campaigns have become one of the most popular marketing campaigns around because they open the door to audience, fan or customer participation.
For organizations in sports, entertainment and across other industries, UGC campaigns maximize the value of social media platforms, generate goodwill and free publicity and drive more brand loyalty between happy customers and potential new customers.
You may look at some of the best UGC campaigns and think they seem effortless and minimal. But there's a lot of work that goes on behind the scenes. Although these campaigns rely on user-created content, you need a strong plan, a solid marketing team, and robust technology to make the most of social media content and make fans feel like they're participating rather than being used.
So, what is UGC? In this article, we'll be taking you through what UGC is while sharing some successful UGC campaign examples to inspire you to design your own.
What Is a UGC Campaign?
A UGC campaign is a content marketing technique that uses user-generated content to increase brand awareness, build social proof through customer endorsement and boost real-world authenticity for brands on any or every social media platform.
UGC campaigns focus on demonstrating how photos or videos captured or edited by normal 'users' represents the brand. This approach is quite different from traditional marketing campaigns that use content created by a marketing or creative team or ad agency. UGC content is unique, usually less polished, and more open and honest. And it represents the sentiment, insight and feelings of the creator.
UGC makes the marketing campaign more unique and authentic to audiences. It can also be a very cost-effective solution that generates more engagement than an agency-created campaign. The network effect of a well-run UGC campaign reinforces brand values and can spread brand recognition to new audiences. Things like branded hashtag use, personal sharing by brand ambassadors and UGC creators to their own audiences, and implied or direct endorsement from customers all are knock-on effects. These can generate immense positive customer feedback.
Examples of User Generated Content Campaigns
User-generated content is a term that describes original, branded content that consumers create and publish on social media channels.
Using customers as your own social media marketers is a strategy that many brands now use to increase brand awareness and boost sales. User-generated content can come in many forms, including images, videos, testimonials, podcast episodes, reviews or even Facebook page comments.
This social media content that brands feed into their UGC campaigns can come from a number of different stakeholders:
Customers
UGC content from customers is typically the most prominent in any UGC campaign. It will typically include content about a customer's favorite product, videos that encourage people to buy products or content that effectively drives conversions to your website.
Now, 93% of marketers believe that UGC content made by customers performs much better than branded content.
Brand Supporters
Every brand has a group of highly engaged customers willing to post about your products, services and brand information.
These people will be the most passionate about your organization. They'll share plenty of positive content that can help build community and increase customer trust. This activity is why 89% of marketers believe influencer marketing is so effective.
Employees
Your employees can be another valuable source of user generated content — or employee-generated content (EGC).
Employees can share interesting behind-the-scenes content about your brand, which can go much deeper than the content your customers make
Utilizing your employees to help you build brand value makes sense as part of any user-generated content campaign. Their content can work across various social media channels. Indeed, nearly half of CMOs state employee advocacy is their best-performing social initiative.
Why Should You Implement a UGC Campaign?
UGC campaigns are becoming essential to many brands' marketing strategy. Leveraging customer-centric content, these campaigns are ideal for sharing across a wide range of social media channels.
For the following reasons, many brands find that UGC content is much more valuable than traditional marketing content:
UGC Content Focuses on Authenticity
Many social media users are bombarded with branded content they don't find engaging or exciting.
UGC content puts a spin on traditional marketing. It makes brands more accessible and interesting to customers as they scroll through Instagram content or keep up with the latest posts on Facebook.
In fact, 60% of marketers now think that authenticity is important. This authenticity can no longer be achieved by professional photoshoots, paid advertising or boosting your posts on social media channels.
Helps Grow a Community of Engaged Customers
Creating an engaged community of customers who are passionate about and loyal to your brand should be the end goal of any marketing strategy. You can easily achieve this with user generated content.
By using user generated content, you give your customers a chance to play a role in your company's growth. This opportunity can be a huge influence on brand loyalty and participation.
With UGC, you can open up conversations and boost interaction. Moreover, you can focus on fostering a relationship with important customers who will continue to spread the word about your brand.
Influences Customer Purchasing Decisions
UGC can be highly influential in the earliest stages of the buying journey if you want to influence current and potential customers to buy your product or service.
This content works as an effective conversion tool. Media crafted by your customers can act as social proof that your product pages are worth visiting. When people see other customers wearing your clothes or drinking from your personalized bottles, it will inspire them to take action. They'll be far more likely to want to buy your goods or services and experience the same feeling.
Builds Trust Around Your Brand
Customers are rapidly losing trust in big-name brands. With an abundance of fake news and customers wising up to paid advertising online, a brand must be trustworthy.
According to a recent poll, only 9% of Americans trust mass media. This fact makes it hard for brands to succeed using traditional marketing techniques. Consequently, this is another reason UGC has become an effective and authentic tactic for companies.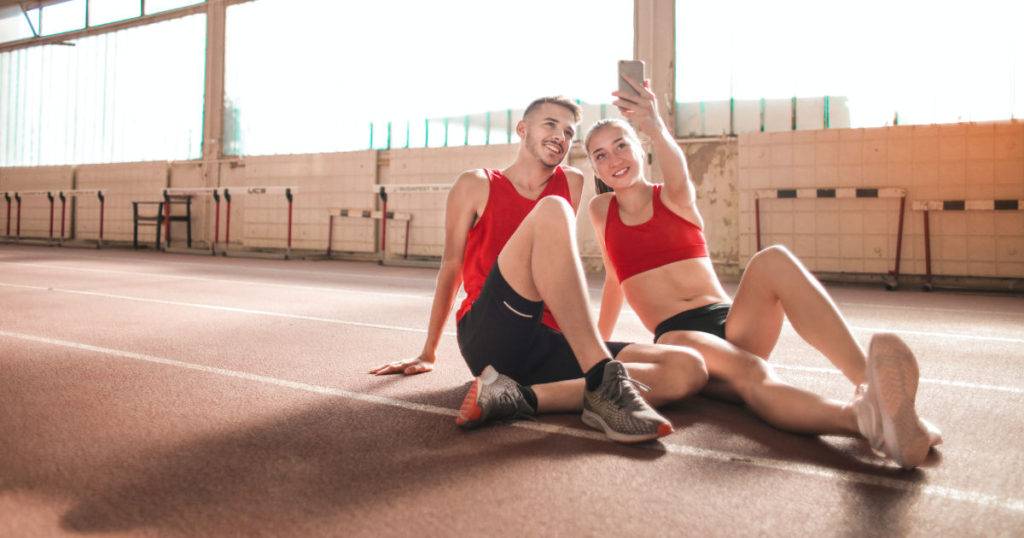 What Qualities Make for the Best UGC Campaign?
If you're looking for the best way to turn your social media followers into active, paying customers, user generated content campaigns can be an extremely effective method. Having the best UGC platform for your industry is key for operating any UGC campaign at scale.
But that doesn't mean that every single campaign is bound to be successful. There also needs to be a lot of thought and planning if you want your UGC strategy to achieve the results you seek.
If you want to build the best UGC campaign possible, pay attention to these qualities:
Realistic
Content for your social media channels should be as realistic as possible and relevant to your product and services.
For example, if you sell workout clothes, having photos or videos of people in the gym wearing your garments is a perfect example of relevant and realistic content.
Authentic
The more control you give to your customers, the more natural and authentic your content will be.
Suppose you make customers agree to a set of posting criteria and then try to have too much say in how they stage and take their photos. You could end up with a campaign that looks too professional and controlled.
Instead, get your customers to post pictures they think are relevant to your brand and show off your products in their best light.
Targeted
User-generated content should be authentic and natural. But you should also ensure that it's targeted to appeal to current and potential customers.
Take the sportswear example above. if you're targeting the casual gym user who wants to get into fitness, only sharing photos of bodybuilders and professional athletes will not inspire your target audience to buy your products.
4 Examples of User-Generated Content Campaigns
Many big brands have already used user generated content campaigns to their advantage. Here are some great examples of the best user generated content examples used by brands you probably already recognize.
Coca-Cola's Share a Coke Campaign
Coca-Cola's Share a Coke campaign involved printing common male and female names onto their bottles to encourage customers to 'Share a Coke' with their friends and family.
As a result, thousands of customers bought the personalized bottles and shared images across social media.
National Geographic's Wanderlust Contest
National Geographic got their social media followers to share photos of their very best nature shots online using the branded hashtag #WanderlustContest.
The winner would receive a seven-day photo expedition around the picturesque Yosemite National Park with a professional photographer.
National Geographic received thousands of entrants into the competition, significantly boosting their social media engagement and brand awareness. It also proved that even with average camera capabilities, customers could create incredible photos.
GoPro's Branded Hashtag Campaign
GoPro is known for making high-quality and convenient cameras that can be taken anywhere, from an intense ski adventure to a scenic walk around the woods.
Using its branded hashtag campaign, the brand has encouraged customers to capture videos and photos using their GoPro cameras. Currently, #GoPro has over 50 million posts, and the campaign has helped to boost sales and social media impressions.
New Zealand National Cricket Team Content Sharing
Sports teams and brands should all be using user generated content UGC to their advantage. The New Zealand National Cricket team is an excellent example of optimizing UGC.
The team regularly displays Instagram posts, tweets and videos on their media feed. This is where they share the content from their fans and followers. The staff encourages their fans to post more when they are watching the team play. This ongoing campaign keeps generating impressions and awareness.
What Are Some User-Generated Content Campaign Ideas?
User generated content can be something other than just getting customers to post photos of themselves using your products. Here are some great user generated content ideas that you could use:
Use your own branded hashtags on Instagram.
Utilize UGC content across various marketing channels beyond social media.
Encourage customers to post unboxing videos where they show your product packaging.
Host an event for customers and influencers.
Ask customers to post videos to their YouTube channel where they review your products.
Use podcast episode clips where your brand has been mentioned across social media.
Make short links for customers to increase conversion rates to your website.
Host a social media contest to encourage customers to create content.
Gather UGC around a significant event or milestone.
Ask your ambassadors for clips talking about your brand or organization.
How To Design the Perfect UGC Campaign
A UGC campaign is a win-win situation for brands and their customers. This form of authentic marketing help raise awareness of products and services. It also gives customers a rare opportunity to get involved with their favorite brands and play a role in their growth.
If you want to design the perfect UGC campaign to get people talking about your brand, here are some simple steps you should follow:
1. Plan your campaign
During the planning stage, you should define the goals and objectives of your campaign. And you should pinpoint your target audience.
Through market research and goal-setting, you can highlight which sources of UGC will be the most beneficial for your campaign.
2. Design your campaign
Every UGC campaign will differ depending on your customers, your desired results, and your product needing an awareness boost.
Choose content and customers that relate to your brand and are relevant to your target customers. Keeping a focused approach to your campaign is more likely to be a success.
3. Execute your campaign
Now that customers are starting to create content, you need to find a way to collect all of it and prepare it for distribution.
With Greenfly +Engage, you can collect, organize, review and distribute UGC that is rights-cleared for royalty-free use. Consumers and fans easily submit their original videos and photos through your custom-branded webpage or embed on your website or mobile app.
For example, the Los Angeles Dodgers, co-created media with their fans to celebrate their iconic winning moment at the 2020 World Series. Using Greenfly, the team's digital staff collected over 4,000 fan video reactions to the win. The team edited select clips into a compilation video, which they shared on the Dodgers social channels.
4. Monitor your UGC campaign
One of the most important aspects of any campaign is monitoring the results. Select the key metrics that align with your campaign goals to gauge how the campaign performed. In this way, you can determine how your campaigns can be improved in the future.
Key performance results could be new names added to your mailing list. Or they could be engagement or follower lift when sharing this new user-generated content to your social channels.
When you use the best UGC software, you can set up and execute your UGC campaigns with ease.
UGC Campaigns FAQ
What Does UGC in Marketing Mean?
UGC refers to user generated content. This content that customers, brand ambassadors and employees create can be shared across a brand's social media channels.
What Are Some UGC Examples?
Examples of user generated content include videos, photos, podcasts, testimonials, online reviews and other forms of social media posts.
What Is a User-Generated Content Campaign?
A user generated content campaign is a marketing campaign that focuses on content made by customers.
Rather than hiring professional photographers and studio space, brands can encourage their customers to make their own photos and videos. This content can be shared online. It often comes across as more unique and authentic than in-house content developed by brands.
What Does UGC Mean in E-Commerce?
UGC is a marketing tactic that e-commerce brands can use to build more awareness and interest in their online stores.
Using content for social media, e-commerce brands can generate more conversions and sales online.
With these UGC campaign design tips and insights, you'll be on your way to success in no time. To find out how Greenfly can help you with your next UGC campaign, let's setup a personalized demo.